I know it's been a while since I've posted any activity ideas…please forgive me…things have been hectic. There are always so many great events happening around town in the summer, so here are just a few ideas, if you can tear yourselves away from the pool:
For the outdoor music lovers: Strathmore is kicking off a free outdoor concert series on Wednesday June 28 at 7pm. For 8 Wednesdays this summer, pack your beach chairs, toss a few blankets into the car and head over to Strathmore for some great music, let the kids play outdoors, and even purchase dinner at the BBQ shack while you're there. Wednesday's performer, Rafi Malkiel, brings a jazz sound infused with Klezmer, Latin and Caribbean influences – perfect for a sultry summer night. Strathmore also offers some wonderful programs just for the kids. Beginning Thursday mornings in July, take your kids for a trip around the world in the Backyard Theater for Kids for just $8, free for those ages 2 and under. The series takes place outside under a tent, so pack your bug spray and picnic blankets, and even plan to bring a picnic lunch to make it a longer outing. Each week focuses on music from a different part of the world. Also, if you're looking to take a break from the heat, check out the Strathmore calendar of events for upcoming specialty teas for the kids. Next week I'm looking forward to the Fancy Nancy specialty tea and in July they are hosting a Prince and Princess specialty tea. Be sure to book early because these teas sell out quickly.
For the young theater lovers:
The Puppet Co in Glen Echo Park is showing The Great Dinosaur Mystery through July 17.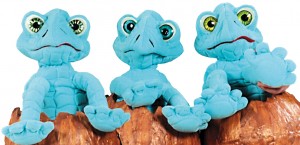 Targeted for the preschool set through grade 4, I've heard the show is lively, engaging and definitely loud…which should appeal to my never-quiet 5-year-old. Click here for ticket prices and show times. The show lasts about 50 minutes and as always, is catered towards the little ones. I'm headed there next week with the girls and really looking forward to it.
Charlotte's Web is opening on Friday at Adventure Theatre.
You can catch the show until September 5 though if you are around over July 4 weekend and looking to fill in some time, I heard they have plenty of tickets still available for that weekend. I'm taking my eldest to see it in a few weeks, the web site indicates it's good for those ages 3 and up and I've always found their age recommendations to be spot-on, when determining whether or not to take my younger one. Click here to purchase tickets or peek at the great upcoming season. We never miss a show at Adventure Theatre, in my house, because they are always so well done and the perfect  duration for young ones.
I realize today's post is all about Montgomery County…as always – if you have an event anywhere around the beltway – please email me at monica.sakala@gmail.com or post a comment here to let us all know about it. I'll resume more activity ideas after the long July 4 idea. Until then…stay cool…and have fun.