As part of the Wired Momma series featuring local DC mom experts, today's topic is travel, as we stare down the July 4th holiday. We all can agree that traveling with kids, especially young ones, rarely qualifies as vacation. Often I've thought of it as "vacation." Usually I have an entire staging area that consumes most of my bedroom, as I plan and organize for weeks leading up  to the trip (do I maybe have a problem?). Today's expert is the lovely Elizabeth Thorp, founder of Bethesda-based Poshbrood and mom to three girls. She's here to offer us some invaluable tips on surviving summer vacation and give us some great ideas where to go, or where to have a "staycation" right here in DC.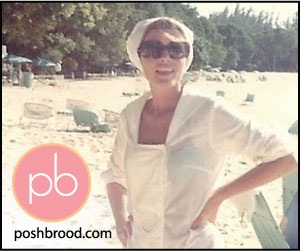 Eizabeth has traveled extensively with her brood and is a lifestyle and travel writer for Momlogic and Huffington Post among other publications. Her company, Proshbrood, evolved out of her own frustration with a lack of resources to find non-Disney vacations. Being so well-traveled, she was already armed with a large dossier of current hotel reviews and with the urging of many friends who relied on her advice and reviews before traveling with their broods,  Thorp decided to start her own site. Ultimately, Thorp realized that the best family properties are recommended by other moms and the bulk of family travel is planned by moms, women who are already grossly short on time. Poshbrood's site caters to the time limitations of busy moms, her site is intuitive, clearly broken down by type of destination you are seeking, and she doesn't waste your time with unwanted ads or pop-ups.
What services do you provide for families?
We've found that people easily spend hours online searching for hotels, exotic destinations, and kid-friendly resorts. Our site offers Poshbrood-tested and approved reviews of hotels, resorts, and villas with the discerning eye of a mom who likes style and luxury, even with the tykes in tow. Our reviews are snarky, irreverent, funny and honest. Did a kid puke all over the lobby of the Four Seasons? If so, we'll tell you what matters most to parents: how the hotel staff responds. We also have experts in other countries and can access insider tips on kid-friendly activities and hot new attractions. Additionally, Poshbrood recently partnered with SmartTravel , a New York City based travel agency. Not only can we book your travel arrangements for free, from wheels up to car seat and car rentals, we can also secure discounts, complimentary upgrades and other perks, like early check-in, the panacea of travel perks for those traveling with babies or toddlers on nap schedules.
What is a hot tip for a nice family vacation, departing from the DC area?
DC notables like Claire Shipman and David Gregory travel to Round Hill in Montego Bay, Jamaica, with their families. You can travel to Montego Bay direct from BWI on AirTran. And what people don't realize is, luxury is accessible, just not always during peak season. The villas in Round Hill, during low-season (beginning April 15) are affordable. If you share a four-bedroom house with another family and you have a full kitchen, it's an affordable, but still luxurious, vacation. And the best part, no matter how many kids you have in tow, you can hire a trustworthy nanny for $10 an hour to watch the kids and enjoy some adult time.
The economy is still dragging, gas prices are soaring, so for families who are looking to stay close to home, what are your top "staycation" tips for DC area families?
One resort that many people don't think about is the Omni Bedford Springs in Pennsylvania. Located about two hours from DC, the resort is newly remodeled, surprisingly affordable, the food impeccable and the service is on par with the Homestead or Greenbrier. The other place that surprised
and delighted us was the Hotel Hershey:  the rooms have just been redone, the staff extremely friendly and the onsite activities plentiful. Even if the park is closed, there is so much to do. If you want a true "staycation" in DC, then I'd suggest booking a room in the kid-friendly Kimpton Hotels, either the Helix or the Palomar  . The rates are reasonable, they offer a free wine and champagne hour every day, free coffee, and bunk-bed suites for kids complete with a curtained bedroom area to give the parents some privacy.
As a seasoned traveler with three girls, what are your top tips for traveling with kids?
First I'd say that kids are like horses, they can smell fear. If you are anxious going into the trip, they are going to feed off your anxiety. So relax and head into it prepared. Always pack a ton of snacks, especially because you never know when or if the airline will offer any snacks, and a hungry kid is a cranky kid.
Second, unless you are Amish, pack electronics for entertainment. And as I've learned the hard-way, don't leave husbands in charge of AV because they are likely to forget to charge the electronic devices, and then everyone's angry.
Third, don't forget about trains. Kids love trains and we so easily overlook them as a traveling option. My family lives in the Chicago-area and we'll take the overnight train to Chicago over Thanksgiving. We avoid crowds and bad weather, the train leaves Union Station at 4pm and arrives in Chicago at 8am the next day. It's really a fun experience for the whole family.
Update from Monica:
Continuing with the "staycation" theme, I recently heard from the Lorien Hotel in Alexandria, another local Kimpton property, that they are offering a special "Kids Camp Out" special. The hotel will provide tents and sleeping bags and the kids can camp out on the hotel terraces while the parents can enjoy some time to themselves in their rooms. The hotel is offering a special kids camping room service menu, including hot dogs, popcorn, s'mores and more. Use the code PCAMP if booking this special.
And I also recently learned that the Omni Bedford Springs in Pennsylvania is offering a similar form of luxurious camping (which frankly is my idea of camping). Billed as the "Family Glamping Get-Away" and available through Labor Day, the deal is good for a family of four and includes two hours of activities like fishing, a S'mores kit, but still the comforts of a luxurious room to sleep in. Again…my idea of camping.
Thanks to Elizabeth for giving us some great tips and be sure to sign up for Poshbrood's free weekly newsletter for tips on smart family travel from this local mom and expert.