UPDATE:
Before you grab the Disney on Ice Coupon Code, know that I have a family 4-pack of tickets to give-away for the Disney on Ice Dare to Dream show at the Patriot Center in Virginia next month. If you would like to enter in the contest to win these tickets, all you need to do is
"Like"
the Wired Momma page on Facebook or subscribe to my RSS Feed. Then send me an email letting me know you did this and you want to be entered. My email is
monica.sakala@gmail.com
and I will announce the winner on Friday September 23.
Great news – I have a coupon for readers who are interested in taking their kids to see the new Disney on Ice: Dare to Dream ice show, featuring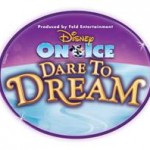 Princesses Cinderella, Rapunzel and Tiana. Beginning
today at 10am, if you log onto Ticketmaster, enter in code MOM11 and you will receive $6 off your purchase.  
The show is coming to the Patriot Center in VA from October 19-23 and then will be in Baltimore at the First Mariner arena from October 26-30. I haven't seen this show yet (count on a review on October 20 from me) but I saw the Disney Ice show last February and I was just as enthralled as my daughter. We ended up going twice. Disney never disappoints and I felt it was definitely worth the price of admission last winter.  Here's a blurb from the Disney show producers about the show, times and ticket prices:
"Experience Disney's hilarious hair-raising escapade, Tangled, as Rapunzel and her unlikely companions, Flynn and Maximus, embark on an uproarious journey that takes adventure to new lengths!  Boogie to the beat of the bayou with Princess Tiana and Prince Naveen from The Princess and the Frog in a magical, musical journey that all begins with a fateful kiss.  And join in a fanciful dream-come-true when Cinderella meets her Prince Charming, with a glass slipper fit for an unforgettable fantasy.
All your favorite princesses take to the ice in a spectacular finale at the ultimate Disney Princess event of a lifetime! Experience the beauty, sparkle, and spirit when Disney On Ice presents Dare to Dream comes to Northern Virginia and the Washington, D.C. metropolitan area!"
 
Patriot Center, Fairfax, VA
Wednesday, Oct. 19 – Sunday, October 23, 2011
 
Show Times:
Wednesday, October 19 @ 7:00 p.m. (buy one get one free)
Thursday, October 20 @ 7:00 p.m.
Friday, October 21 @ 10:30 a.m. and 7:30 p.m.
Saturday, October 22 @ 10:30 a.m. 2:30 p.m. and 6:30 p.m.
Sunday, October 23 @ 12:30 p.m. and 4:30 p.m.
Venue/Ticket Information:
Tickets go on-sale to the general public on September 12, 2010 at 10 a.m.  Tickets can be purchased at all Ticketmaster outlets via charge by phone at 1800-551-SEAT; via www.ticketmaster.com; and at the Patriot Center box office.
 
Patriot Center Ticket Prices: $70.00 (FRONT ROW) / $50.00 (VIP) / $28.00 / $20.00 / $15.00
To discover more about Disney On Ice, go to www.disneyonice.com, or visit us on Facebook and YouTube.