With the premiere of fall shows finally upon us, this week has been abuzz with scintillating headlines coming from the talk show world. I don't know about you but even I was tempted to DVR Dr. Phil's interview with Casey Anthony's parents after all the play the Today Show was giving it.  And then came Dr. Oz's show yesterday on the dangers of the poisoned apple juice. It seemed so Disney, so evil step-mother out to destroy the beautiful young princess,  where here I guess the Argentinians and Chinese are the evil Queens poisoning our children?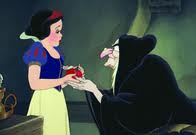 I don't know. My mom called me about it as well and after listening to her for a few minutes, I tossed the apple juice box with Big Bird's smiling face from my fridge into the trash.
I didn't see the show myself but what I was hearing was that the Oz show did testing on apple juice in non-organic juice boxes and found those that came from Argentina or China have higher concentrated amounts of arsenic than the government deems safe. Particularly when you consider the person drinking that juice box is most likely to be a 30lb 2-year-old and not an an adult. Obviously the idea of unwittingly feeding our kids arsenic will strike terror into all our hearts (and give Dr. Oz a real buzz online for his ratings). Oz apparently threw the FDA under the bus on his show. Again, I didn't see it. But some quick online research shows me that the FDA is dismissing these claims – pointing out that there is organic and inorganic arsenic – who knew? And the organic kind naturally occurs in the environment.
The FDA posted this helpful link on their site, explaining that organic arsenic is found in many foods, including fruit juices, and they have been testing it for 6 years. Apparently Dr. Oz was comparing the arsenic levels in juice to how the FDA tests for water and we all know he isn't comparing, dare I say, apples to apples, with that kind of comparisons, therefore according to the government his tests are void. So where does this leave the rest of us? For me, I'm likely to pay closer attention to where my juice boxes are coming from and if it says organic and made here in the USA – then I'm probably going to stick with that one.
In other news, I read two really interesting articles in the New York Times this week. One was about children and naps. It's definitely worth a read if you have a young child that naps because it explains the science behind why children need naps so badly but it stops short of giving detailed breakdowns of how long kids should nap. Isn't that the age-old question? As the parent of one child who napped until the first day of full-day Kindergarten (what I wouldn't give for access to half-day Kindergarten), you better believe I fall in the camp of "Why in the world would anyone in their right mind force a child out of a nap."  I have never understood it when people say that.
The other fascinating piece I read in the NYT was an article on the character of kids in high school, how do parents and schools groom and build a child's character and how character has life-long impacts on a child's success, far outpacing their grades in school or whether they attended a fancy private school or regular public school. Spoiler-alert – we should all spend way more time making sure our children are of solid character than shepherding them to a million after-school activities and grooming them for the ivy-leagues.