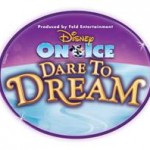 It's your lucky day…first I tipped you off to the $6 off coupon for the Disney on Ice: Dare to Dream show coming next month to Fairfax and Baltimore (enter code MOM11 into Ticketmaster)…now you can also enter for your chance to win a family-four pack of tickets to the show at the Patriot Center next month!  What you need to do is the following (if you haven't already done so): "like" the Wired Momma page on FB or subscribe to the RSS feed (which you can do easily here on the home page if you look to the right) and then send me an email telling me that you want to enter to win. My email is monica.sakala@gmail.com
Winner will be picked on September 23. I will notify the winner by posting it on the Wired Momma FB page and sending them an email.
Here are the show times:
Show Times:
Wednesday, October 19 @ 7:00 p.m. (buy one get one free)
Thursday, October 20 @ 7:00 p.m.
Friday, October 21 @ 10:30 a.m. and 7:30 p.m.
Saturday, October 22 @ 10:30 a.m. 2:30 p.m. and 6:30 p.m.
Sunday, October 23 @ 12:30 p.m. and 4:30 p.m.