Like it or not, the holidays are officially here. Frankly I can hardly believe Thanksgiving is a week away. What better time, than now – to get some tips on great holiday looks from my newest advertiser and local women's boutique owner, Susan Gerock of Zoe Boutique in Alexandria. Last week we chatted on the phone and she offered up some fabulous tips on how to plan for holiday outfits, what colors are hot now and which designer jeans to splurge on.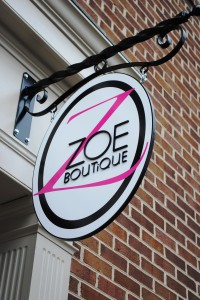 When Susan approached me about placing an ad on my site – I was delighted because all my avid fans know that I absolutely love supporting locally owned female businesses around the beltway, like Zoe Boutique – but it was also my quick research on her and her story that appealed to me. I think many of us face career changes at some point in adult hood, sometimes because of children and sometimes because we need too. Susan worked in IT for  most of her career and it was at the urging of her husband that she eventually came to open Zoe Boutique. Realizing she didn't want to face another 10-15 years in the IT field, with the voice of her husband reminding her she loves fashion, people and business echoing through her head, she finally took the plunge and opened her doors in April 2011.
Like other business owners I've interviewed for WM, however, Susan didn't just jump in uniformed. She took the approach of interviewing boutique owners she's admired, both for how they've decorated their stores and how they've selected their clothing – and she deliberately focused on boutique owners outside the beltway area.  She resigned in the spring of 2010 and a year later, opened her doors to Zoe.
Over the last 6 months, Susan has discovered one of the most satisfying parts of owning your own clothing boutique is the thrill of repeat customers, the ones who circle back after selecting a fabulous dress for a wedding and come back to tell her about it.  She also really enjoys chatting with her customers and helping them assess their needs and how best to find the right piece they are looking for.  I'm sure most of us saw Thursday's Washington Post Style section piece on Ann  Taylor, the rarely challenged uniform of working women in Washington. From talking with Susan, I've learned she's opened a boutique for women who want unique pieces, pieces that are going to garner the attention of others rather than the standard office look for DC. I think we can all agree we need more of this in DC.
As we talked, the subject of jeans came up, which, though a staple in everyone's wardrobe, are a chronic challenge for me. I hover between not wanting to drop $200 on jeans but recognize they are a staple of casual and evening wear and having the right pair that compliments the figure is essential to style today. Susan tipped me off to a brand I haven't yet heard of, and that she carries in her store, Red Engine. She said they "fit like a dream." I was sold already. She owned a pair before she opened her store and knew she had to carry them because they flatter women who have hips and they don't gape; she, like the rest of us, "can't stand the gaping."
Which inevitably is what stops me from spending $200 on jeans. No one needs to see my exposed rear – and I hardly want to drop $200 just so I can reveal it every time I sit or bend. She says she sells several pairs of Red Engine jeans a week, and they retail for $160-$170. The other popular line of jeans she sells is called Mother, which is a collaboration of Citizen and Seven. She labeled these the "cashmere of jeans" and noted these are better for slimmer women, retailing about $200.
Now, moving on to holiday outfits, we talked about trends and colors. Susan noted she is seeing "a lot of lace" – which I think we all can attest too – but what Susan aims to do is help her customers select pieces that they can use for more than one season, which I totally appreciate about her. Inevitably I splurge on something for a holiday party, justify it by telling myself I'll wear it for subsequent holiday seasons and consistently fail to do that because by the next season, I've fallen in love with another trend or another color. So purchasing a piece that can be incorporated into outfits throughout the year, not just the holidays, really is so smart. Susan said most of the holiday tops she's offering have pretty lace overlays, so they can work well under a jacket at work or in the evening with a cropped cardigan.
Susan also shared a tip – she said she and her friends shop each other's closets. I love this idea. They trade holiday outfits – what  a fun recession proof tip and excuse to get together!
As for hot colors, she's seeing a lot of jewel tones, which really do compliment everyone. Right now she's especially fond of some Rebecca Taylor tops in beautiful  jewel tones and lace that "look good on almost everyone." I want one!!!
So – about promoting our local small-owned businesses, Susan let me know that on Black Friday there is free parking throughout Old Town all day – which anyone who goes to Old Town realizes is a real perk – and most stores are opening at 6am. In Zoe Boutique, Susan is offering discounts all day: 30% off from 6-8am, 20% off from 8-10am and 10% off the rest of the day.  Here's a link to more information on what other Alexandria boutiques are offering that day. Also, the shop owners in Alexandria are all starting to decorate their windows for Christmas and Old Town holds a contest for people to vote on their favorite windows…so just taking a casual stroll through the streets sounds like a lot of fun for everyone!
Additionally, Small Business Saturday is November 26. If you haven't heard of it, American Express started this program last year and really saw an uptick in charges on AmEx cards that day. If you register your card at Shop Small Business Saturday and spend $25 in a small business, you get a $25 credit on your statement back from AmEx. Zoe Boutique like many other small shops in our area, is a participator in this program.
Two more things about the fabulous Zoe Boutique: On Friday December 10, Susan is hosting an ADMK Jewelry Trunk Show from 1-5pm. Beginning today, November 18, Susan is supporting  local food bank, ALIVE!  and a program called Donations for Discounts. For each canned food item that someone brings in,  she will offer 1% off any regularly priced item that day (up to 30 items).  Bring in 10 cans of food, get 10% off!  This promotion begins today and runs through January 6, 2012.  If you're anything like me, you will talk yourself into purchasing a super fab holiday party top by justifying how you're donating to a great cause and scoring a discount at the same time….and in the interest of full disclosure, somehow fabulous items for myself tend to land in my shopping basket when I'm out doing Christmas shopping for my family….
Thank you to Susan for giving us some great shopping scoops – happy holiday party dressing everyone!