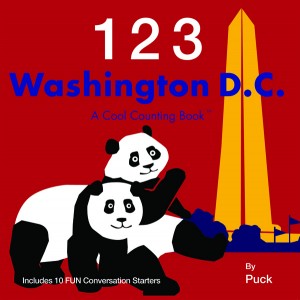 Did you know Henry is the name of the elephant who welcomes you to Smithsonian's Natural History Museum?
Going on 15 years of living here and honestly, I had no idea. Is it because, at least in my family, we zoom past poor Henry so quickly to check out the dinosaurs, when we enter the Museum? I don't know. But our kids should probably know this because they live here.
How about the Statue of Freedom on top of the Capitol building? Do you spend much time looking at it or discussing it with your kids, or are you like moi, zooming past, focusing on perhaps reaching Eastern Market or a destination on the Mall?
Might be time to stop with all the zooming….
Lucky for us, newly out this week from Duopress Books , a publisher of high quality children's books, is 1 2 3 Washington D.C., a colorful counting book starring the landmarks and notable parts of DC, for babies through preschoolers. Duopress sent me an advance copy of the book and both my girls pounced at the chance to sit down with it (including my Kindergartener). What I like about the book is not just its simplicity but the conversation questions at the end of the book to help guide kids through learning about each of the landmarks featured throughout the book, including the Zoo's beloved pandas. (Obviously here is where I learned about poor Henry, who we give the shaft too, and where I realized I just don't bring the Statue of Freedom to my girls' attention when we are zipping around the Capitol. #ParentingFail).
Bottom line: Raising kids in DC, it's easy to take advantage of what this town offers our kids, and using the 1 2 3 book as a launch point, my girls had a lively discussion about which monuments they've seen, what we've noticed around town, how many cherry blossoms they've counted along the Tidal Basin and if they could name the airplanes and rockets at the Air & Space Museum (note to self – get back there after Spring Break). Also fun, on the Duopress web site, you can print out coloring pages for the kids from the  DC book or from other books in this same series, featuring cities like Baltimore, Philadelphia or New York.
What I specifically like about the 1 2 3 Washington D.C. book is this: It makes for a great shower gift or gift for friends traveling to town with little ones. I always love to give gifts that have something to do with Washington and this is a perfect gift to have on hand for such an occasion. Today happens to be your lucky day because Duopress is giving away one copy of the book, to enter all you have to do is "Like" their Facebook page and leave a comment on their page that you've entered. This give-away ends on Wednesday April 11 – so don't miss this great giveaway your kids will love it or you'll be thrilled to have the book on hand when the next shower invite comes through or next friend asks to come visit with her family!
Disclosure: Duopress gifted the book to me but my opinions here are my own.