Summer is around the corner and one of the best things about living in DC is there is never a dirth of great theatre to take advantage of with the kids or date night. Today I am highlighting some of the shows I am most excited about…so especially if you also LOVE musicals – today's post is for you.
Disney's Beauty and the Beast, the award-winning worldwide smash hit Broadway musical, is returning to Washington, D.C. for two weeks only at the National Theatre.  Tickets for Disney's Beauty and the Beast begin at $56.50 and can be purchased online.  Tickets go on sale at the National Theatre Box office on Monday, May 21.  I am going to see the show on June 12 – so expect my review the next day – and just might be more excited than my 6-year-old. The National Theatre indicates it is age appropriate for those 3 and up.
We grew up on the Music Man in my house – we couldn't get enough of watching the movie version. Seriously. Madam Librarian, Marian – love her. So for any other Music Man lovers out there, Professor Harold Hill rolls into town May 11 – July 22 at the Arena Stage. I am headed there next week with my mom and sister but will report back not just as a date night/ladies night idea but also about taking the kids. The Music Man is directed by the Arena Stage's Artistic Director Molly Smith.
Local fun fact: Joining the adult cast are five D.C.-area youth who were cast as a result of an all-day casting call held at Arena Stage. The chosen young actors include Ian Berlin making his professional theater debut as Winthrop Paroo, Heidi Kaplan as Amaryllis and Jamie Goodson as Gracie Shinn. Colin J. Cech and Mia Alessandra Goodman appear as River City kids.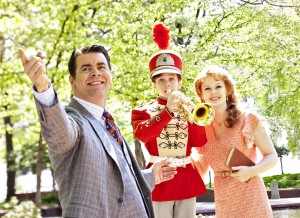 Tickets range from $46-$91 and the show is 2 hours and 2o minutes with an intermission.
Every summer I love love love Wolf Trap, despite the heat, the inevitable t-storms and the disaster of the parking lot when you're tired, it's late, and you just want to go home. It doesn't matter because what is summer without Wolf Trap? I love Children's Theatre in the Woods, I mean, who doesn't, right? But now that my girls are a little older, I'm also considering the Sound of Music Sing-Along on August 25. First of all, it's my 10th anniversary, and they are having a costume contest. Do you think I could convince Mr. Wired Momma to show up in Lederhosen? I think I've earned that after 10 years and 2 kids.
But more to the point, how can I resist my Favorite Things: a lawn, a picnic, my kids, a starry night and Julie Andrews and the ever-dashing Captain Von Trapp? Oh: and of course, Mr. WM dressed like this:
What fun summer plans do you have? I dare you to show up at Wolf Trap dressed as the lead nun on August 25……
"Like" Wired Momma on Facebook because the summer fun ideas are just starting……