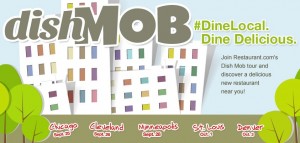 Look, I am a food snob. You probably figured it out by now. In particular, I try to avoid national chains like the plague. Why eat at some generic chain when there are countless delicious locally owned and operated restaurants beyond our front steps, especially here in DC??
For the next two weeks, Restaurant.com has paired up with Cash Mobs founder Andrew Samtoy to launch the Dine Local Dish Mobs campaign. Through  my work with Restaurant.com, this whole concept was new to me until last week. It's actually really cool. Too bad they didn't include DC on the list! The purpose of the campaign is to encourage restaurant goers to dine at local, independently owned restaurants. The campaign began yesterday and goes through October 7th. This year, they are hosting Dish Mob events at five restaurants in five markets:  Chicago, Cleveland, Minneapolis, St. Louis and Denver. Maybe next year DC will be on the list?
The idea is help a select local restaurant thrive by sending consumers to each business on a designated date and time. Ultimately what really makes this campaign unique is it targets specific restaurants to help rejuvenate them. Look, I don't just love local, independently owned restaurants because the food is better than say, a national chain. I also enjoy supporting these businesses because they are part of the community and they give back to the community in ways a national chain just doesn't.
In fact, an August 2012 study by Civic Economics notes that local restaurants return almost 80 percent of their revenue locally compared to just 30 percent for national chain eateries.  It's the local restaurants who support our kids' little league teams, who sponsor fundraising nights for local preschools and elementary schools, who provide jobs to our residents and support local farms by purchasing their produce. So maybe we should we starting our own Dine Local Dish Mob campaign here in DC?? Is there a local restaurant where you live that could use some extra support? Is there a local restaurant that always supports your kid's school and maybe deserves some extra business? If so, then maybe we can each take to Facebook and Twitter on our own and encourage the people in our neighborhoods to frequent that special place over the next few weeks? Feel free to give shout outs to local restaurants you love on the Wired Momma Facebook page. I, for one, am always eager and happy to learn about a fabulous local eatery – and feel free to note whether it's great for kids or better for date night.
And if you live in one of this year's 5 Dish Mob cities, check here for more details on the local restaurant in that area.
Disclosure: I am a paid blog ambassador for Restaurant.com but my opinions here are all my own.