Yes, you read that right.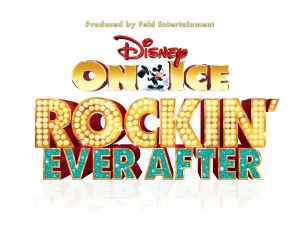 I have TWENTY tickets to give-away to Disney on Ice's Rockin Ever After at the Patriot Center in two weeks!  Here's a description of the show from the press release: "Get ready to rock out to some of Disney's most memorable musical moments in a showcase that features the hottest tunes and talent from across the kingdom in Disney On Ice presents Rockin' Ever After! Be part of the festivities at the Patriot Center in Fairfax, Virginia, from October 17-21! A century of classic and new Disney stars are taking the ice to share memories, laughs and excitement with you and your family.
Jam to a Scottish jig as Merida, the sharp-shooting, headstrong heroine from the latest Disney•Pixar blockbuster film, Brave, makes her ice debut! Experience a show-stopping performance as Sebastian breaks out of his shell for one night only to make waves with The Little Mermaid herself, Ariel.
Spectators will sing along as the chorus of harmless hooligans from Tangled unleashes musical mayhem when they get a visit from the sassy and spirited Rapunzel and her charming ally Flynn. Audiences will surely get their feet moving as the Beast and his castle's enchanted entourage take center stage in a spectacular show for Belle. It will be a rockin' remix of royalty when Disney On Ice brings this superstar line-up to Fairfax!"
Look…if any of you remember from last year, I was super busy drooling over the guy who played Flynn from Tangled (#perv) – so they had me at Flynn. They had my kids at Merida (even though we had to leave the movie early. #GoFigure).
SOOOOO….what are the details and HOW do you win some of these 20 tickets??

Patriot Center, Fairfax, VA
Wednesday, October 17 – Sunday, October 21, 2012
Show Times:
Wednesday, October 17th @ 7:00 p.m.
Thursday, October 18th @ 7:00 p.m.
Friday, October 19th @ 10:30 a.m. and 7:30 p.m.
Saturday, October 20th @ 10:30 a.m. 2:30 p.m. and 6:30 p.m.
Sunday, October 21st @ 12:30 p.m. and 4:30 p.m.
Venue/Ticket Information:
Tickets are on-sale now and can be purchased at all Ticketmaster outlets via charge by phone at 1800-745-3000; via www.ticketmaster.com <http://www.ticketmaster.com> ; and at the Patriot Center box office.Patriot Center Ticket Prices: $75.00 (FRONT ROW) / $50.00 (VIP) / $30.00 / $20.00 / $15.00
Give-Away Details
I have 10 tickets to give-away for the Friday morning show on October 19 at 10:30am. I have 10 tickets to give-away to the Friday NIGHT show at 7:30pm. Note – Montgomery County schools are CLOSED on Friday October 19 – so this is a great day-time activity.  How do you enter? You head to the Wired Momma Facebook page (and be sure to "Like" the page), and specify whether you are entering for the 10:30am show or 7:30pm show – and the eldest Wired Momma'ette will draw the winner's names on Monday October 8. I will announce the winners only on the Wired Momma Facebook page. Please also specify if you are hoping for 2 or 4 tickets. I've got to draw the line at 4 because I am trying to get these to as many people as possible.
Good luck! May the odds ever be in your favor……