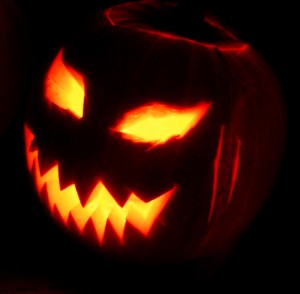 I want to try something new here on WM. I don't know about you but I LOVE Halloween, the decorations, the costumes, the candy (obviously) – all of it. And I also love carving pumpkins but I suck at it. I lose all creativity and can never come up with a new or different pumpkin face. My youngest wants a Superhero carved pumpkin this year – which of course surprises none of my regular readers. So Mr. WM will attempt that this weekend (he doesn't know that yet but if he's reading today's post, you're welcome Mr. WM for that promise to the youngest WM'ette).
Anyhow – so how about you? I would LOVE for readers to share with me their carved pumpkins…email me a pic and include whatever you'd like as the caption, your name or not, include your kids in the pic, include your kids in their costumes, include your cat, whatever you want but I would LOVE for Wednesday's post to basically be a gallery of people's carved pumpkins. Maybe this will inspire me to do better next year. And obviously I will do a dramatic unveiling of Mr. Wired Momma's super hero pumpkin!
Also – if you have made your child's costume – not store bought like I tend to do because I am totally intimidated and again lose all creativity – but if you have a home made kids costume that you've all worked on together – would love for you to send in pictures of that as well!!!
So please, between now and Tuesday morning, October 30, email me your carved pumpkin – I don't care if it's a brilliant masterpiece or a regular pumpkin – and whatever your caption is – and let's make a whole WM readers gallery of pumpkins. Maybe I'll even take it to Pinterest. Surely you'll be famous.
Email the images and caption to: WiredMomma@me.com
I can't wait to see what you've all done! And as always, don't forget to "Like" the Wired Momma Facebook page to keep up with the fun, frolic, and ridiculing of Pepco in advance of this alleged Hurricane Sandy.