Hey guess what, did you know I birthed Beyoncé.
And Lady Gaga.
In fact, maybe I've defied logic and managed to actually birth Madonna.
I should really go back in time…..cause she can turn back time..and say I've delivered Cher: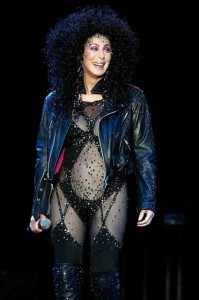 "What do you mean I only can wear ONE costume on Halloween," indignantly exclaimed Lady Gaga my almost 4-year-old Halloween diva. Ahh…the annual rite of passage each autumn. The Halloween costume negotiation is a time-honored tradition, passed on quietly and secretly among generations of children, steadfastly pursued with one common goal: to drive their parents insane. And deplete our bank accounts if given their way.
I think you know what I'm talking about. The idea of a child committing to wearing ONE costume…but more than that…..committing to said costume and actually still wanting to wear THAT costume once it arrives in the mail….is a delicate art of negotiation and peace-keeping that creates feelings of ill-will towards All Hallows Eve among the parental units.
It's the classic tension between the shorties and their oppressed, confused and tired parents…..the very adult who thinks they are doing right by their child by ordering their beloved costume early, before they sell out in their size, only to learn said oppressor no longer wants to wear THAT costume anymore. All this before I even get to the other Halloween challenge, otherwise known as "How to find a costume where your 7-year-old daughter doesn't look like a floozey" and then order said costume (because there are 2 of them) before they all sell out in her size by September 29.
But back to the matter at hand: Do these kids have a bat phone straight to Madonna? She changed costumes 15 times per show during her MDNA tour (and apparently that didn't help her. Think we can explain that to the toddlers?)
What kills me is this epic Halloween battle can begin as early as late August when those catalogs start invading your mailbox.
Back at chez moi, Beyonce the youngest WM'ette was prepared to drop  $10,000 on her plentiful outfit changes, this is the outfit that was taking the lead:
Next up she selected Spiderman. Then Batman. Then was ready to rotate in Twilight Sparkle Pony and Rainbow Dash pony.
I was intrigued by the mix of characters and messages each conveyed. Her theme needed some work, I reasoned but this didn't dissuade her.
For sport, I messed with her.
"So will you stop off at home in between houses on Halloween and change costumes?"
Gaga thought a minute.
"Yes."
"But what happens if it takes so much time to change into different costumes, that the other houses run out of candy?" I proudly respond, thinking "Point One, Parent."
"Well, then I will wear different ones to my school and to pumpkin patches."
The diva takes the lead in the negotiation. You really can't out-fox the fox, can you?
Perhaps she would like a grand finale event for her final costume change on the big night – taken straight from one of her idols' books, I consider:
Look…I know I don't suffer alone with my little Diva…this is a common problem plaguing parents everywhere, right? Tell moi it ain't just my own toddler.  Join WM on Facebook to keep up with the fun and diva antics.  You'll be so glad you did.