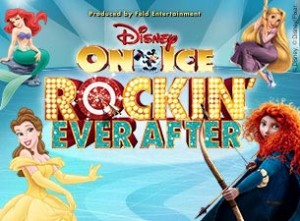 If your weekend plans aren't jam-packed, I'd suggest you head to the Patriot Center and Be A Guest of Belle, the beast, Merida and the other fabulous characters in this year's Disney on Ice Rockin' Ever After performance. I attended the performance yesterday morning and it was delightful. In all honesty, I thought it was the best one they've had in a few years.
But first, a gripe. To the genius who thought hosting a Presidential campaign event starring President Obama himself at the same time and location as the Disney on Ice event, I think you ought to be fired. Particularly because these events let out at the same time, onto a two lane road with traffic lights not coordinated. We departed my house at 9:20am for the 10:30am performance. We got home at 2:45pm. The irony – I switched our tickets to the Friday morning show because it was a no-school day in Montgomery County and I thought it would be really nice to avoid rush hour traffic getting to the Patriot Center and to take the girls to an earlier show because it does run a full two hours and anyone who has read my past reviews knows that a common gripe of mine is it's too late by the time it ends, if you hit an evening performance, particularly because this show is popular among the 3 and 4-year-old crowd. They typically can't party until 9:30pm without drama, save for maybe Suri Cruise.
Now to the show. Unfortunately we missed the first 10 minutes (thanks to the lack of parking for Patriot Center goers due to the campaign event, many people were still trickling in well after intermission because of the horror scene that was parking), so I don't know how it opens but I do know Ariel is the first princess in the show line-up. I am a huge sucker for big scenes with lots of colorful costumes and spectacular dancing and the Disney on Ice Rockin' Ever After version of "Under the Sea" knocked it out of the park. Some of the fish costumes were glowing, I marveled over how difficult it must be to skate as Sebastian, and the starfish costumes were outstanding. Also, I love a Disney princess nemesis and the Ariel portion of the show included none other than my beloved Ursula, whose costume absolutely did not disappoint. Again, I thought skating as Sebastian would be difficult, how about skating as Ursula, between her octopus arms and her girth?
#Remarkable.
Next the show moves into Tangled, with Mickey and Goofy coming onto the ice in between acts, which is of course, a crowd pleaser for the youngest theater goers among us. The viking scene that opens the Rapunzel act was energetic and fun. Back to my fascination with skating in difficult costumes, how many people are Maximus the horse? It seems it would be two people but again, imagine the coordination and practice required to pull that off so elegantly. The lantern scene was absolutely beautiful which my iPhone picture here does no justice conveying.
After Tangled comes every parent's least favorite part of the event, intermission, otherwise known as the 15 minutes you get to argue with your child on why you aren't spending $30 on a Disney doll, how they should be grateful and thankful to be attending the show, and you aren't spending $12 on 3 ounces of popcorn.
#ILoatheIntermission
The opening princess after intermission was THE event my youngest had been waiting for since she first laid eyes on the promotional postcard for the show way back in August: Merida. Despite making me leave the movie about 10 minutes before it ended because she was terrified, Merida remains her new favorite princess and with each act during the show, she kept asking "Where is Merida, when is she coming?"
At long last, the wait was over. Merida in her fabulous long red curly hair came skating onto ice, and all was right in the world for the youngest Wired Momma'ette. Personally, I love the triplets in the movie and enjoyed them equally as much during the show. I was curious how they would handle three young boys for the show and sure enough, they had them as characters attached to barrels that moved around the stage. The Scottish kilts and make up on the opposing tribes and sons seeking Merida's hand in marriage was so creatively done. In the end, we were all a little disappointed the Merida portion of the show was the shortest portion. One friend wondered if it was because there weren't as many big musical scenes in the movie? I was really hoping for a few big bears and a longer stage presence from Merida. Maybe next year, Disney on Ice? But leaving us wanting more is never a bad thing in the arts, so it was a job well done.
As we were rounding 90 minutes after the Merida portion, I mistakenly thought the show was about to wrap, but think again – Belle is the final act. Cue my confession of loving large, singing and dancing scenes, and you better believe I was in heaven during their rendition of "Be Our Guest," which really was made for live theater, what with the dancing forks, Lumiere and Cogsworth. My eldest loved chip and the fact that you could even seen bubbles from the tea on top of his teacup. I loved the dancing forks. I love the dancing forks in every live version I have ever seen. Show me something glittery, something gold, something happy and dancing in unison, and I am sold.
#ILoveDancingForks
As you would expect in any Disney production, although Disney on Ice is a Feld Entertainment production, the grand finale is just that – grande. Think lights, think characters, think singing and dancing and some odd 80s costumes and lights, and every kid was on her feet, dancing and waving. They always do a great finale at Disney. My youngest and her friend were on their feet, clapping and dancing away, with my youngest exclaiming "I LOVE waving at Merida. I LOVE Merida!"
Cue to her having another epic meltdown in the hall as I held strong and REFUSED to drop $30 on the Merida doll on my way out the door….and I wondered why she must ruin an otherwise great two-hour production.
Oh wait, was that or was it the EPIC TRAFFIC trying to get off campus that was going to damper our day?
You decide.
Bottom line – if you have some extra time this weekend, I would encourage you hit the Patriot Center for the final shows of Disney on Ice Rockin' Ever After. If you miss it this weekend, you can catch it in Baltimore starting this Wednesday October 24 through Sunday October 28. You can purchase tickets for this weekend's performances at the Patriot Center here. Shows are at 10:30, 2:30 and 6:30pm on Saturday or 12:30 and 4:30 on Sunday.
Disclosure: Feld Entertainment gifted the tickets to me for the performance but my opinions here are my own.