It's that time of year already, if you can believe it, to stock up on gifts, toss back some champagne at holiday parties, and figure out how to avoid parking lot rage at the malls and grocery stores. I have a particular problem with that one.
So today, I offer you a gift (beyond the year-long gift of WM, of course…heh heh)….and not just any gift but the official second annual Wired Momma Holiday Gift Guide. I thank each of you who sent me your favorite things as well to help make this a true WM community collaborative guide. I tried to put together a creative list with some options that span beyond the obvious. I tried to include locally owned female businesses and charities that are important not just to me but also to other mothers and children in our area, and some of my own personal favorite things. See what you think, consider the gift of charity this season, and of course, feel free to add your own suggestions in the comments section. I think we all look for great gift options throughout the year, not just during the holiday season.  So, in no particular order, let's get started.
For the Accessory Lover:
Two moms in Frederick, MD are the brains behind Hip Junky. If you're not familiar with their line but you – or someone on your list – is a true belt lover, then be sure to check out. Each belt buckle is a work of art and unique. This is an accessory that adds some serious pizzazz and character to your outfit. What I particularly like is that they've set up a gallery of other Hip Junky lovers on their web site and feature pictures of their customers wearing the belts – love it.
For the New Moms:
My youngest is turning four this week (sniff sniff), so it's been a while since I had a teething baby chomping on my jewelry but the memory has not faded. So when a good friend who is pregnant tipped me off about Chew Beads, I was immediately pissed I didn't have any of these necklaces back in the day. As any great invention, this one was created by a stylish mom who wanted to keep wearing necklaces but didn't want them to break or to worry about what chemicals her baby might be chewing on when munching on her necklace. These necklaces can be washed, are dishwasher safe, chemical and BPA free and come in a variety of fabulous colors — all reasonably priced. Love them!
For the Personalized Paper & Gift Lover:
Avid WM readers know that I am a true paper lover and am always on the hunt for new paper products. I was delighted to come across this site Sweet Mady, started by a local DC area mom. I confess, I am taken with many things on her site but am particularly drawn to the Adorable ME line of products – what kid doesn't love images of basically themselves on everything…shirts…placemats, lunchboxes? I love it! Right now I'm leaning towards the lunch boxes – not necessarily for their lunch but for storing some of their impossibly small toys (Squeakie's anyone?) that they inevitably lose but always want.
For the new Big Brother or Big Sister:
Frecklebox is one of my favorite sites for finding personalized gifts for my kids or for their friends as birthday gifts. They offer a variety of products at reasonable prices and deliver them to you pretty quickly. Among the many things I love on their site, I particularly fell in love with the customized books for soon-to-be big brothers or sisters. I think every kid loves a personalized book but becoming a big sibling is a really big deal – and what a great way to introduce them to this special occasion – a book about them! I warn you, it could be an hour before you get off that site if you're not already familiar with it. We are big fans of the personalized puzzles, personalized book marks and coloring books chez Wired Momma.
For the edgy baby or toddler who won't wear just anything:
Enter the Psychobaby Custom Shop, fortunately a good friend introduced me to this site recently and I absolutely love their clothes – especially for the child who veers off the beaten path a bit, like my youngest does. The site was lauched by veteran retailers (and experienced urban mamas) Marlo Hoffman and Lisa Starbuck.  Psychobaby is where you head for individualized t-shirts, hoodies and more for your little monster, princess or rocker (seriously, you won't find this stuff any place else).
And, new this holiday season, The Psychobaby Custom Shop is proud to present the "Instant Awesome" Collection — a perfect, customized gift set for every baby and kid on your list all bundled together for one perfect holiday gift package. Whether you have Big City Punkers, Cupcake Cuties, or 50-Yard Football Fashion MVPs on your holiday shopping list, the Psychobaby Custom Shop has an irreverent and fun gift option that you can personalize by adding names or selecting colors and graphics to create a truly one-of-a-kind present.
In addition, they have a Custom Shop with options including customized pillow cases (nighty-night petite princess! $22),the item I chose for my sassy youngest, which is a monster name tees or onesies ($26-28), designs that celebrate your hometown or state ($26-28) and "Nameasaurus Rex" onesies and tees for the little dino-lover on your list ($26-28).

Or how about this: buying for multiple kids in the same family? Combine different items from within a category to create a cool themed gift. Think customized superhero tees for the whole gang ($26). This would be a big hit chez moi.
For the Grandparents:
This particular gift is actually for anyone because don't we all love pictures of our kids? But I thought I'd highlight the grandparents because sometimes they can be especially difficult to shop for and well, you know they always love pictures with their beloved grandkids. Some of you might remember the WM family had an amazing photo shoot with local photographer Maggie Winters a few months ago…well..she is offering some great packages this month that I'd encourage you to check out. One idea that really appealed to me was this – gather together with siblings to give Grandma and Grandpa a session with their kids & grandkids. We so often take family pictures but how often do we have professional pictures taken with the grandparents and grandkids? Maggie also offers friends & family sessions which are like two sessions back to back that overlap a bit so we get some photos of each little family and photos of the two families together. Photo turnaround is 2-3 days, so even sessions in December will have galleries ready by the holidays. Maggie also offers gift certificates which makes an amazing gift, especially attractive for that last minute shopper out there.
And finally, last but absolutely not least, my favorite charities. If you've reached the point where you just don't want any more stuff and you encourage family members to make donations in your name, then I hope you'll consider one of these area charities this holiday season. Each does something so important and I think we all know donations to charity really is the gift that keeps on giving. Please consider:

Mission Sleepis an amazing local DC area non-profit – the goal of this group is to offer much needed assistance
to moms with newborns whose husbands are deployed overseas or who are wounded when the baby arrives. I think just how much help we all need when a baby is born is something even time can't erase from our memories – and the daunting task of facing this adjustment alone while worrying about your husband overseas or helping him recover from injuries, is overwhelming. Mission Sleep aims to send nurses into the homes of new moms to provide them assistance through the night and much needed education. Mission Sleep works in partnership with Walter Reed Medical Center.  I applaud this group and hope you'll consider donating to them this holiday season.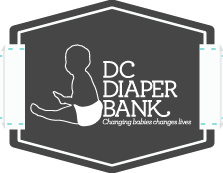 The DC Diaper Bank works to supply diapers to babies and toddlers in the DC area who are in need. These figures from their web site really impacted me: " In DC, 44% of children under age three live in low-income families. In Maryland the number is 33%, and in Virginia 36% of three-year-olds share this reality. The cost of living in the DC metro area is the 8th highest in the country. The DC Diaper Bank provides an average of 20,000-23,000 diapers to more than 500 families a month. To date the DC Diaper Bank has donated over 203,000 diapers to families in need, and this number continues to grow." I hope many of my readers will help those numbers grow not just this holiday season but throughout the year. For $12 a month, you can help diaper a baby for two entire weeks – and especially with newborns – you remember just how many diapers they go through in a day. This is so little money for such an important cause.
The Campagna Center, located in Alexandria, serves local families and children by providing services that allow kids to arrive to school ready to learn. In addition, they operate after school programs for elementary students. The Center also supports adult and family literacy through a program called New Neighbors.
If any of these charities are new to you, hopefully you are inspired to learn more about them and maybe select one to donate too. And moi, you ask, what do I want for Christmas? Why, for you to keep reading my blog, to "Like" my fabulous Wired Momma Facebook page and to share any posts you like with friends and family, of course!
Disclosure: Psychobaby sent me a monster shirt for my youngest but my opinions here are all my own.