Didn't purchase your tickets yet for Adventure Theatre MTC's new production of Winnie the Pooh?
Oh bother.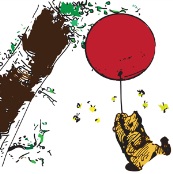 I heard tickets sold out quickly for this past weekend's opening but the good news is, so long as you don't get distracted munching on some honey and humming a few tunes, you still have time to take the little ones to see it before it wraps February 24.
We were lucky enough to see this delightful and sweet play on Thursday during the show's final dress rehearsal and the kids and adults alike delighted in the 60-minute production. First, as you enter Adventure Theatre, you will immediately be taken with the beautiful Hundred Acre Wood set design. The plush green trees are plentiful and true Pooh fans will notice there is a bee hive, along with a home for Owl and tree stumps for Pooh to rest and pine away for honey. The set is as much a part of the show as the actors.
Speaking of the actors, five actors play the part of eight characters in this stage adaptation of A.A. Milne's "Winnie the Pooh." Todd Scofield is absolute perfection as Winnie the Pooh, he conveys the bear's peaceful personality and easily -distracted-by honey-tendencies. Christopher Robin is performed by Holden Brettell, who is continuing the theater's new inclusion of child-actors in the play. James Gardiner stars as Eeyore and Kanga, Genevieve James is Piglet and Roo and Joshua Morgan is Rabbit and Owl. The sharing of roles is infinitely confusing and fascinating to the older kids in the audience. My 7-year-old is still marveling over how Rabbit could possibly be Owl.
We brought a gaggle of kids with us on Thursday night ranging in age from almost three to seven and every single one of them was absorbed into the play and delighted in it during the 60-minute run. I think this speaks volumes to the quality of the production, especially because it started at 7pm on a school night. Certainly the youngest ones were getting a little squirrely towards the end but that was because it was 8pm – the point was they were wide awake and happy to be there – despite being jittery. I wondered if my first grader, who is championing a tween attitude and confidence in her own worldly sophistication, would think she was "too old" for this particular play but watching her face throughout the show and the expressions of one of her good friends, also a first grader, showed me that they are nowhere near too "old" for this sweet play.
Pooh and Piglet embark on a hunt for the Heffalump, hatching a plan to trap the dreaded, ever-elusive Heffalump in a big hole, meanwhile Rabbit convinces them they need to trick Kanga to rid the Hundred Acre Wood of her dreaded bath tub…certainly the symbol of all that is evil and wrong with the world when you are about four-years-old and have way more important things to do. I think all the kids could relate to the importance of this scheme.
As in any Pooh adventure, the delightful characters distract easily and deviate onto different plans, like helping sad Eeyore, whose birthday it is, find his tail, seeking the guidance of the wise Owl, or chasing the ever-energetic Roo, whose energy level can only rival that of the toddlers we brought along with us. A piano player is artfully positioned towards the back of the set and enhances the production with several songs throughout the play.
My kids in particular loved the inclusion of forest friends, in the form of stuffed animals, during Rabbit's happy song about friends and relatives. I was impressed not only with the quality of acting during the show but the creativity of their costumes. My favorite was easily Owl's feathers and I found myself wishing I could raid the Adventure Theatre MTC closet next October. I'd be the best-dressed parent in town for a little Trick-Or-Treating, right?
We brought my dad along to the play and he adored Pooh the most because how could he not relate to Pooh's passion for honey, as a man who loves a good snack anytime it's offered to him. Along with all the other times in between.
Something tells me most Grandpa's can relate to Pooh.
The happy play wraps with Eeyore, appropriately costumed in lots of blue denim,  in the best mood I've ever seen him because of his found-tail and his vibrant red (and popped) balloon  meanwhile the elusive Heffalump remained on the lam. Bottom line – this is an excellent winter's play that will entertain even the youngest children and absolutely shouldn't be missed. Tickets are $19 and can be purchased online. If you are on the hunt for other indoor activities, you should also check out Adventure Theatre's student production of Disney's Little Mermaid, starring Adventure Theatre child actors in grades 6-12. This production is also appropriate for all ages. The show opens January 25 and runs only through February 3. Tickets are $19 each and the show takes place at the JCC in Rockville, not at Adventure Theatre MTC in Glen Echo.
For more fun indoor activities and other great topics, be sure to "Like" the Wired Momma Facebook page.
Disclosure: Adventure Theatre invited me and my family as guests for the final dress rehearsal but my opinions here are all my own.