I don't know about you but I read the article in Tuesday's Washington Post Health section about kids,  colds and medicine with mixed feelings. Written by local pediatrician, Howard J. Bennett, he notes repeatedly that all the over-the-counter cold remedy medicine we purchase for our kids isn't necessarily effective at treating their illness or the symptoms.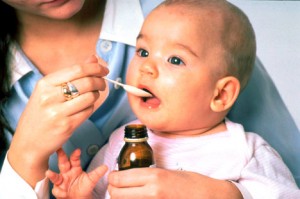 Why the mixed feelings about the article? Well, as any parent who struggles through multiple colds and various illnesses knows, it is difficult to see your kids struggling through an illness, especially when they are little, and your instinct is to want to do whatever you can to help alleviate some of that discomfort. And let's be honest, you want them to sleep through the night because you also want to sleep through the night. Dr. Bennett notes that little kids can have as many as one cold a month from fall through spring and at that point – he's preaching to the choir – no matter how many times you wash those grubby, sticky hands and beg them not to put their fingers in their mouth, right? It seems they still get sick so frequently at this time of year.
My friend was just telling me how she went to get the flu shot and while filling out some paper work, her toddler took to licking the counter before she could intervene. We all know that feeling too well. Especially parents of thumb or finger suckers. It can make you cringe. I am certain at some times of the year, all I see are Norovirus germs and lice everywhere I look.
#ParadnoidMuch?
So, assuming you are the person with a pretty well stocked medicine cabinet with over-the-counter remedies for the kids, I decided to dig up some helpful tips on being sure you are making safe and smart decisions. I, for one, find some of the labeling and restrictions really confusing – and sometimes when those kids are really sick and the coughing just doesn't let up, it feels like you want to do right and give them something more than just Tylenol.  I have yet been able to successfully clear a baby or toddler's nasal passages or get a kid to drink a tablespoon of honey to help their cough. Half the time I struggle to even get Tylenol in them when they are really sick. Am I alone?
A google search turned up some additional and helpful tips from Dr. Sears on this Parenting web site and then I turned to the Over-the-Counter Safety Foundation web site for some tips:
Always read and follow the label.
o    Do not use oral cough and cold medicines in children under the age of four.
o    Always give the recommended dose and use the correct measuring device. Never use longer than the label instructs or at higher doses, unless your doctor specifically tells you to do so.
o    Only use the medicine that treats your child's specific symptoms.
o    Never give two medicines with any of the same active ingredients.
o    Never use cough, cold, or allergy medicines to sedate your child.
o    Never give aspirin-containing products to children and adolescents for cold or flu symptoms unless told to do so by a doctor.
o    Do not give a medicine only intended for adults to a child.
o    Stop use and contact your doctor immediately if your child develops any side effects or reactions that concern you.
o    Keep all medicines and vitamins out of your child's reach and sight.
o    Teach your child about using medicines safely.
o    Consult a doctor, pharmacist, or other healthcare provider with any questions.
What do you think? Do you give your child anything beyond Tylenol when they are sick with colds or coughs? Or do you stick with just vapors and honey? I'd love to know.