Ironically, it's been just over a week since we noted the 50th anniversary of Betty Friedan's "Feminine Mystique" and about two weeks since the 20th Anniversary of the Family Medical Leave Act. In case you didn't realize, it's been TWENTY YEARS since our government passed any sort of federal initiative to protect working families.
How much has changed in twenty years?
Aside from the new gray hairs I have sprouting on my head and the dramatic influx of technology into our daily lives, well, unfortunately for women working in America, it's not been a progressive 20 years. Because on the federal level, nothing has changed.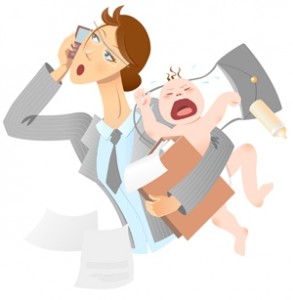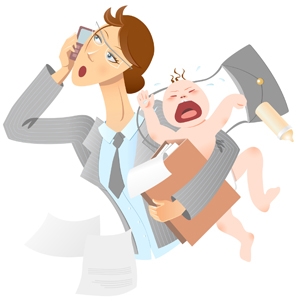 Did you know that in 1990, the United States ranked 6th in female labor participation among the 22 countries in the OECD?
Want to know how we fared in 2010?
Oh, we'd fallen to 17th place. Oh my, how far we haven't gone.
Last week there was an excellent piece in the NYT written by Professor Stephanie Coontz on Friedan, feminism and its place in between the demands of work and family life for women in the United States. Professor Coontz noted that our workload has increased dramatically from 30-hour work weeks in the early 1930s to the standard 40 hour week by 1938. Jump forward to 2000 and by then the United States had surpassed the Japanese in working hours per week — she explained the average dual-earning couple worked "a combined 82 hours/week."
Think of that in contrast with Coontz noting that "70% of American children live in households where both parents work."
So we've decided we all need to work more but we need to protect working families less on the federal level – so not one of us should be surprised that when compared with other countries who are "economically and politically similar to us, the US comes in dead last in family-work policies."
Not long ago I blogged about how the Europeans have laws that protect parents, specifically those with children under the age of 6 or with special needs until that child is 18, these laws dictate that a company can not reasonably deny a request to work part-time or flexible hours. And what have the companies found? They've found that it hasn't impacted their bottom line, it hasn't made them go broke, or ruined them. And it's certainly boosted morale. Oh, and for many of these European countries, these laws have been in place for over a decade.
No one responded to that blog post. No one noted their surprise or anger that we have NOTHING similar here in the United States.
And yet – Marissa Mayer – she of the famous 2-week maternity leave, she who built a nursery NEXT DOOR to her office at Yahoo! – notifies everyone at Yahoo! that they will no longer be able to work from home effective June – and ANGER bounces across the country.
While a writer at Forbes hails her as a true business leader. Meanwhile a writer at The Broad Side claims that we shouldn't criticize her just because she is a woman making a seemingly anti-woman decision. I would argue that it's not that Mayer is thinking like a man, she's thinking like an AMERICAN.
And then there's Richard Branson – who takes to Twitter to express his shock that she would make such an antiquated decision, in fact he called in "backward thinking."
Newsflash Americans – we are a MOCKERY on the world stage because we do NOTHING to support working families on the federal level. We spend so much time talking about this female CEO and the luxury she affords herself by building a nursery next door to her office but rescinds work-life balance options for all her employees. We gossip about Sheryl Sandberg and her obnoxious suggestion that she is every working woman because she, too, has had a daughter with lice, that she discovered on a business trip, on her private plane. These women are nothing like any of us.
And yet where is our outrage that we live in a country where it's okay for a Fortune 500 CEO, be the CEO a man or a woman, to rescind a work-life flexibility policy from its employees without having to face any consequences?  Give me a break – that isn't leading. And neither is our country. We are a joke. We haven't come far, we've gone back.
Ask yourself, what is it our country leads when women continually drop out of the work place because we have no policies in place to manage work and family? Where our female participation rate in the work place drops over time while it rises for women in other developed countries?
Mayer's decision is a reflection of where we, as a culture, place value. Her decision is about every single one of us because we are complacent and, unfortunately for many, blind, to just how antiquated our system is for working families. I'd imagine that the Europeans are all mocking just how far we haven't come. We should be demanding more. We should be demanding leadership  – leadership from our business CEOs and from our elected politicians. I don't care if they are a man or a woman – every single one of them has a family.
Follow me by hitting "Like"on Facebook.