Friends –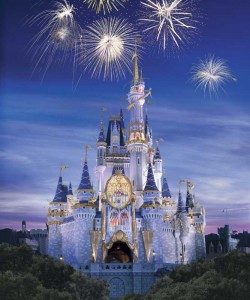 The time has come for us to take our girls to Disney World. We've held out – we wanted them to be done napping, we wanted them to be done being asked to be carried constantly, and we wanted at least one of them to be old enough to maybe remember part of the trip – so here we are – ready to plan the trip. We're thinking of mid-November to celebrate not just each of their 5th and 8th birthdays but as it so happens, Mr Wired Momma's 40th falls right in between their birthdays – so he will get to celebrate there as well.
I am overwhelmed by Disney and spent the majority of the weekend all over Disney focused blogs and
chat rooms. I sketched out what I think will be our itinerary for about 5-6 days including character meals and dinner shows. But before our insane 180 day advance date rolls around when I can make these meal reservations, I'd love to get any and all feedback, advice and thoughts you have on planning a great Disney trip, things you wish you'd known, meals you'd wished you'd skipped or gotten too, hotels you wished you'd considered or that you stayed in and LOVED….any and all things Disney. I haven't booked anything yet or made any reservations. I am open to all advice.
Bring it on please…and I suspect there are other readers out there who, like moi, last visited Disney world in the 6th grade (1986…and one of my friends came with and she wore her head-gear the entire time much to the extreme embarrassment of me and my older sister….note we were busy getting character autographs, so who were we to be embarrassed by her braces and head-gear).
I hope you'll share your wealth of knowledge – I am hungry for any and all tips!!