If you are anything like moi, you love clothes but you absolutely can't stand spending much money on kid's clothes. If so, today's post is for you.  Today's post is also for anyone who enjoys supporting small local, female-owned businesses or is looking to be inspired by two women who started a new career path after having their children.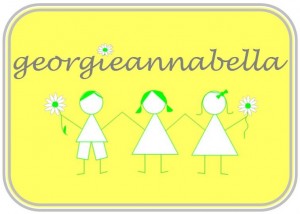 But back to the kids clothes. Look, I love beautiful patterns and stylish kid outfits just as much as the next person. It seems I suffer from either needing a sink that pours only Spray'N'Wash or maybe I'm too practical, but I look at beautiful clothes and think about how quickly my child will ruin that item. Especially if it's white.
I begrudgingly confess they do take after moi on this one.
C'est vrai. Much as I love to blame their flaws on Mr. WM.
If you, too, have children who will find a way to spill but also love to put them in designer duds, I'm thrilled to feature GeorgieAnnaBella today on WM. It is an upscale online children's consignment boutique founded by two local DC area moms. They sell new children's clothes, shoes and accessories, gently "pre-loved" high-end items, and unique gifts….all at huge savings.  In addition to selling these items, they also provide parents of growing children (ages newborn through high school) a convenient way to resell their children's clothing. When consigning, parents have the option to receive cash back, in-store credit, or donate profits to a charity of their choice.
This appeals to the fashionista-recessionista in all of us. I've been known to find myself on a bargain shopper's high for weeks.
In case you're wondering how this business idea came about, here's a peek: Owners, Colleen Cavanagh and Cristina Khalaf, met at Our Lady of Victory School in DC five years ago.  After working together on many school auctions and other projects related to their kids, they decided to enter the business world.  They formed a partnership and named the business after their children; George, Anna, and Isabella.
Before the business started, Colleen was voluntarily organizing the Our Lady of Victory School uniform exchange. She often heard from parents that they had gently used items such as winter apparel, Sunday best outfits, shoes, etc. that they wished to pass along but didn't know where to go.  Cristina was looking for space for a children's retail shop in the Palisades.  Together they decided to start an online children's consignment boutique.
Colleen and Cristina formed a partnership on Oct. 1, 2012. They got to work constructing their website, collecting items for donation, and after a month of tireless efforts, were ready to launch the site.  As with any new business, they are continually learning the ropes; which brands sell quickest, how to utilize social media, what products are in demand, etc.  Over the past 6 months, they have met many new people, gained a greater appreciation for the US Postal Service, become tax experts for small businesses, and all the while being surrounded by beautiful children's clothes.
I applaud them for taking a leap, starting a new business and offering a great resource for area parents!
One their site, you'll find an excellent combination of items, ranging from designer duds at reduced prices to really unique baby shower gift ideas or the more practical – tags for your kid's goggles (how quickly will the first pair get lost at the pool this weekend, right?). Here's a closer peek:
Taggoggles:  These are a must have for any parent of a child who swims.  These "tags help identify your child's goggles.  No more lost goggles this swim season…great birthday gift for a summer swimmer!  
 Upscale clothing:  We hand select each item posted on our site.  All items are the current fashion trend, clean, free of stains and tears, and ready to wear.   Currently some of our "hot" brands include Oillily, (no longer available for purchase in the US), Lilly Pulitzer (Lilly passed away recently making her items even more popular), Jacadi (an extremely high priced brand with a local store in Tysons Mall) and many other boutique brands from France, England, and Italy.
And exciting news for all WM readers! Colleen and Cristina would like to offer Wired Momma Blog readers a free Taggoggle of their choice when they order at $50 or more of merchandise from the site. They will even deliver purchases to customers in the DC area.
So please, support your own love of fabulous bargains and clothes along with two area business moms and women at the same time by shopping at georgieannabella.
As always, be sure to hit "Like" on the old Wired Momma Facebook page to keep up with the fun.