How do you even begin a post about a trip to Walt Disney World?
I have been belaboring this dilemma for about a week now.
#FirstWorldProblem
It is overwhelming – and I mean that in a good way. Look, the truth is – I don't particularly like other people's crying children, I don't particularly like crowds, I really don't like humidity and I rarely have the patience for long lines.
#Scrooge
Initially, it didn't seem like I was the sort of person who would fall in love with Walt Disney World.  As many of you know, despite these facts, we were initially planning a trip in November but then I was invited to attend the Disney Social Media Moms Conference and well – obviously you don't turn down such an amazing opportunity.
On Thursday May 9, we sprung it on the girls. Disclosure – they knew we were going to Disney World but we'd kept the specifics on when in May, deliberately vague, and my older one had arbitrarily decided we were going on Monday May 20, so I went with that. We tossed it on them about an hour before departure for the airport time and well, I'm thinking the Disney PR team isn't going to pick up their reactions for a TV ad:
I still found their reaction to be highly amusing, however, right? I mean, the library? Really? #Nerds.
But – here's the thing – before I knew it, we were roaming Magic Kingdom and these words fell from my four-year-old's mouth:  "This is the most fun I ever did have."
And she was right. I fell in love with Disney, despite the odds, and it was the most fun we ever did have. With that, I give you my top tips on optimizing your Disney experience – in no particular order, mind you. I'm thinking I might do a separate post on shoes & necessary accessories.
1 – "The Parade made me late." Seriously. It did. There's one place in the world where you can use this excuse and actually not be lying, when you show up 20 minutes late to your dinner reservation…and that is Disney World. We were warned of the importance of factoring in "getting there time" but I couldn't fully appreciate it until we were experiencing it first hand – getting where you need to go takes at least 30-45 minutes – so when you are heading out the door – be sure to factor in time for getting through lines, bag check, getting there (monorail, switching monorails, waiting for boats)….navigating through crowds….or the parade blockade. Expect the unexpected and pad your time accordingly.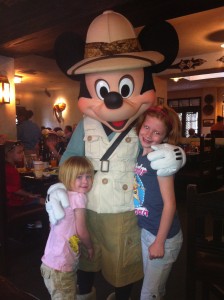 2- Character Meals – yay or nay? Totally YES! Frankly – these were a real highlight of our trip and I wish we'd done more of them. For many of the character meals, you really should make your reservation 180 days in advance to score your seats at your preferred time – but in our case, we had less than a 60 day notice we were going. I was able to book a table at Tusker House Restaurant for Donald's Safari Breakfast in the Animal Kingdom and our hotel concierge reserved a table for us at 1900 Park Fare in the Grand Floridian hotel for our last night. Cinderella and characters were the hosts of that particular meal and we really loved the boat ride from the Magic Kingdom to the Grand Floridian (where we were totally late for dinner because of the parade….). My seven-year-old discovered a deep love for buffets at these meals and we found the food to be surprisingly good and healthy. The kids also loved the individual time with each of the characters and we appreciated not having to wait in line for those character meet and greets, as you otherwise would at the parks. As you can see here, they also do more than just take pictures and sign autograph books at the character meals. Where else can a gal dance with Cinderella?
3 – Fireworks start LATE. Like 10pm late at the Magic Kingdom on many nights. I hadn't focused on this until we got there and if you've been at it all day with little ones, fighting the crowds and staying up late for Magic Kingdom fireworks is no small feat. I would highly recommend the Illuminations show and fireworks display at Epcot – they start earlier at 9pm – and there is more space to exit the park than Magic Kingdom. Just something to keep in mind. If you are a sucker for fireworks, like I am, then I'd encourage you to watch this riveting video I took of the show – Disney does it right. I should also add that we saw beautiful pink heart shaped fireworks coming from the Magic Kingdom show one night. Did you even know there could be a pink heart shaped firework? #OnlyInDisney
4 – Stay on Disney property. I think one caveat would be if you have your own car. Otherwise, there is a price point for everyone and it is just convenient. And with long days, hot weather and lines in front of you – convenience is your friend.
5 – Vintage Disney Still Lives On. What was fabulous when you were a kid is still fabulous. I hadn't been to Disney World since the mid 1980s. Same with Mr. WM. And I was thrilled to discover that what I loved as a kid is still just as fabulous and completely unchanged: It's a Small World,The  Enchanted Tiki Room, Country Bear Jamboree, Splash Mountain, Thunder Mountain Railroad, The Haunted House. Fabulous. Just as you remembered them to be.
6 – Disney Customer service is unparalleled. We are all so exposed to this world where children are an annoyance. Some people cringe when they see the shortie's boarding flights. Others don't want them in restaurants. And then there is Disney World. Where "cast members" can't possibly be making very much money to stand and manage the line waiting to see Ariel, for example, and yet they act like each child is the most precious gift given to all of us. The attitude towards children was so refreshing. Sure, I know, it's a children's amusement park. But again – it is often the perfect storm for bad behavior – combine long lines, hot weather, hours of screaming children and someone who probably makes minimum wage – and yet every person we came across went out of their way to be helpful. What struck me the most was waiting in line at Ariel's Grotto in the New Fantasyland. If you haven't been, it's built like a cave and the sound echoes. As we were nearing the front of the line, a toddler was screaming and the noise was piercing. The woman working the line asked for the crying baby to walk up front. The dad sheepishly strolled forward with his distraught toddler and the "cast member" asked her why she was crying and noted that no one likes the sound echoing through the cave. So what did she do next? She pulled out a stack of stickers and the little girl started smiling. Problem solved. Everyone was happy. That's the Disney magic right there. Actually, the real Disney magic is how they motivate the 60,000 "cast members" they employ to all share this attitude. And could they sprinkle that across the country? Particularly in airports.
7 – If in doubt – always pack the stroller. Do I need to say more? Especially if you have a child under the age of 6 years old. One book I read in prep for our trip noted that everyone walks an average of 5-9 miles a day in Disney World. In fact, they recommend physical conditioning for the trip. When my 4-year-old was tired, that child just fell asleep in the stroller. And yes, she did sleep through the now infamous parade that was fantastic and blocking our ability to get to our dinner reservations. She also slept through an entire Red Carpet dinner party complete with characters one night of the Disney Social Media Moms conference and several other fun outings but hey – she had somewhere to sleep and not slow us down.
8 – Packing for Disney: if they wear it, they will spill on it. If you think you can pack outfits for your kids to wear again, then they must not eat like mine, or you don't care about popsicle or ketchup stains (which after a few days, I didn't either). I'd recommend at least one outfit a day for the kids. Picking the right shoes and bags for comfort and style for the adults warrants an entirely separate blog post – so give me a few days.
9 – Misery loves company. I realize now that my attitude was all wrong going into Disney. It's not that other people's crying children bother me, it's that other people's crying or argumentative children serve as the perfect reminder – just when you think yours is the only one freaking out at Disney World and you are bleeding cash – that they ALL DO IT. Just seeing it happen around you can bring you inner peace and comfort in knowing that you are, in fact, never alone. Disney World is the one place where we can all come together and let it all hang out, so to speak. It's not our nudist colony, it's our "here's how they really are" colony. Namaste.
10 – The magical surprises make the trip. There's no other way to say it. Realizing that it's so cliche, it's just the truth. There are magical, unexpected moments in Disney that make it "The most fun I ever did have" moment. You can't plan for it, schedule it or purchase it in advance. You just experience it. For us, it was the talking garbage can in Tomorrowland who approached our oldest. Of course there's a random talking garbage can in Disney World who charms parents, grandparents and kids alike. Why wouldn't there be? He reminded me of ET.
Or it's watching the kids' faces as a random street parade comes tooling down Main Street. In those  moments, they suspend their desire to be practical and grown up,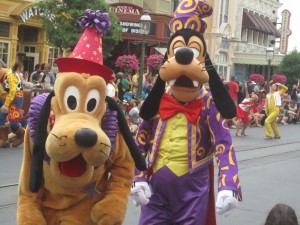 they stop crushing the dreams of their little sisters, and they believe that those princesses and characters are REAL and they are so happy. And you are happy. It's what the whole thing is about and I had forgotten that until suddenly, there was a trash can talking to my kids.
11- You can find healthy meals. I heard the news last spring that Disney World was going healthier. I read the articles. But I still didn't believe it. Guess what – it is true. There were healthy options for adults and kids most places we visited. In particular, I really loved a parsnip spinach salad at a buffet dinner at a character meal. Would you ever have guessed that's where I'd find that one? Seriously. The girls munched on grapes and apple slices, had apple sauce instead of french fries. I was duly impressed and not fully expecting it.
12 – Magic Hours are not to be missed. If you are staying at a Disney resort, then pay attention to the magic hours and use those to your advantage. For example, we had a 9:15 character breakfast in Animal Kingdom. Despite all the odds, we managed to get up, get out the door and get into the park and onto the Safari by 8:30am to enjoy it before the crowds and lines – all before our scheduled breakfast. It wasn't easy because it seems every night is a late night at Disney but it was so worth it.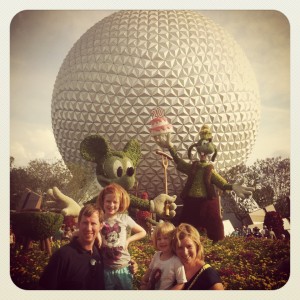 13 – I left my heart in Epcot. Epcot was just lovely. I don't know what else to say. Somehow, by some cruel and evil twist of fate, I never got to France in Epcot. Personally, I could have spent a week just at Epcot. My older one also really loved Epcot. Bottom line – Disney World is about so much more than the Magic Kingdom.
I could keep going and going and going. Seriously. Instead, I will end here. These are my top tips and insights from the trip. I have a few more Disney related posts coming though. One will be dedicated entirely to the inside scoop I learned at the Disney Social Media Moms conference on what's coming later this year and in the future from Disney and to the parks.  Clearly you come to moi for the scoop. And one post will be dedicated to mom-fashion at Disney World. It is possible. But one must be practical.
In the meantime, be sure to share anything I missed, that you thing is extra special about WDW and as always, hit "Like" on the old Wired Momma Facebook page.  It will be the most fun you ever did have.
Disclosure: I was invited to attend the Disney Social Media Moms Conference. I paid a conference fee to attend and we were given discounts to the parks and meals during the conference. All the opinions here are my own.