I don't know about your house but in my house, there are some firm and divided feelings on the right family car. Mr. WM, he loves the ease and comfort of a minivan.
Moi?
Not so much. I almost cringe at the practicality of it all.
Now, before I offend all my minivan driving readers know that I fully appreciate how ridiculous I sound. Is my anti-minivan state a pathetic attempt to cling onto the last youthful seeming identity I can muster up? I already moved to the burbs, I had the kids, I tool around town getting them to and from their activities – a minivan makes total sense.
Yet I resist.
C'est vrai.
C'est VAIN.
Which then begs the question of two rows or three rows and what is the right vehicle choice due to my self-imposed minivan ban?
We only have two kids, I reason, therefore we don't need a minivan yet….yet….I am the FIRST to declare lately that I need three rows.
I said it.
Also, I don't like driving big cars. Why?
Well, let's just say I don't have a lot of confidence with my ability to pull into small parking spots or reverse out of a crowded Whole Foods parking lot.
I am a walking cliché, people. I know this.  Go ahead, mock me. I deserve it. Mr. WM does.
A few weeks ago, leading up to a fabulous design forum weekend in Charlottesville hosted by Mazda, they delivered a Mazda5 to my house for us to drive for two weeks. I wasn't sure what to think. Now, in the interest of full disclosure, I own a Mazda3.
See how I am consistent with my personal brand? The Mazda3 is sporty, youthful, it's small and easy to drive and park. I've had my Mazda3 for 8 years and I love her. She's done right by me. Some of you might recall I was involved in a horrible accident on the beltway a year ago – the kind that shuts down all lanes of the beltway and leaves you pretty much permanently emotionally scarred. It is nothing short of a miracle that I walked out of that accident without so much as a scratch.
I am loyal to my Mazda.
But the Mazda5. Now that's a different story because though it doesn't LOOK like a minivan….if it walks like a duck and quacks like a duck..well….
Meanwhile over in Mr. WM-land, he was super psyched about the chance to drive the Mazda5 because it is now well-documented that he is a man of practical nature; the yang to my yin.
I reluctantly loaded the girls into the car and as what is normally a time-consuming and somewhat frustrating process (you know, getting them actually INTO a car and into their car seats) was happening, I realized it was actually, well, easy. In a practical way.
First off, the sliding doors are really so nice. You read that right, two sliding doors, not just one. Then there was the issue of the three rows. Because three rows are a novelty to my kids, naturally they both wanted to sit back there and they found it to be super comfortable. Loading their gear, of which there seems to be endless amounts of it, was also really easy because everything just slid straight in. When I'm driving my Mazda3, I have to basically climb down and do strange bendy twists to load the pool bags and other "necessary" kid items across the driver's seat onto the passenger seat. In the instance of the Mazda5, it was a direct, straight across, no bending or squatting or maneuvering required movement – it was just easy.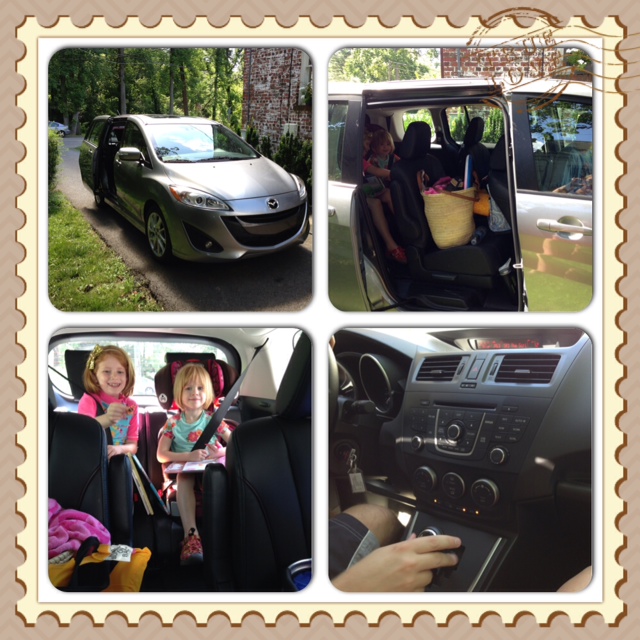 Now let's not get ahead of ourselves, I wasn't yet ready to relinquish my stupid anti minivan philosophy though in my head, I was reasoning that actually, is the car technically a minivan, because well, it's smaller and feels like a car.
Then came time to drive it. What Mazda does especially well is build sporty, fun to drive cars, and equip them with luxury-like accessories and interior, so you feel like you're not in economy class but you are getting the better price than a luxury price tag. This certainly holds true for my 8-year-old Mazda3 and it absolutely is true for the Mazda5.
We had a lovely leather interior, perfect for the inevitable kid spills, satellite radio, bluetooth, GPS, and one of my husband's favorite features, the windshield wiper sensor that activated and then paced the wipers when it was raining.
In terms of fuel economy, this car performed very well for being a three-row vehicle in city stop-and-go traffic. We actually ended up taking it on three road trips – one to Cunningham State Falls for a day trip of lake lounging and a short (I emphasize the word short) hike, the following weekend we headed to Charlottesville for the Mazda Design Forum Weekend to learn more about the roll-out of the super stylish and fabulous Mazda3 and then over July 4 weekend we hit the beach with the old Mazda5. To say that we tested her out under a range of conditions, frankly, would be an understatement.
Fuel efficiency wise, she ranged between about 21.4 and 24.4 miles per gallon and filling her up ran me less than $50. I was pleased,  honestly. I could track my miles-per-gallon right there on the dashboard during every trip, which might appeal to the consumer who really gets into that, I have a few friends with husbands who are like that.
How about the all-practical question for every family of packing space? If you are using all three rows, there isn't much in the way of trunk space. There was enough room for a big grocery store run. Again, we only have two kids, so I could pile gear up onto empty seats. Over the 4th, we drove to Bethany Beach and had to bring the girls' expertly decorated and extremely patriotic bikes so they could ride in the parade, of course. We easily folded down the third row, loaded up the bikes, our weekend bags and had room to spare. At the beach, it was nice to be able to pile everyone in to head to the fireworks in one car instead of two cars, or fold back down the third row to load up all the necessary beach gear, of which, we never pack lightly.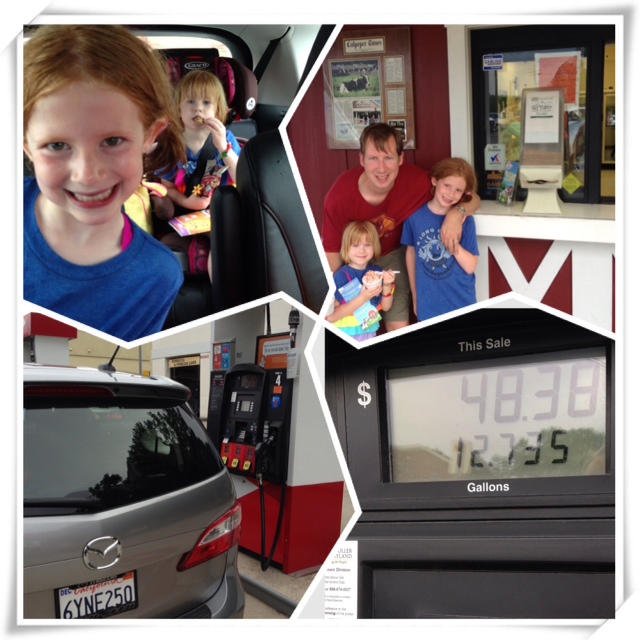 As for those patriotic July 4 bikes? Actually not a Pinterest Fail on my part, as so much often is: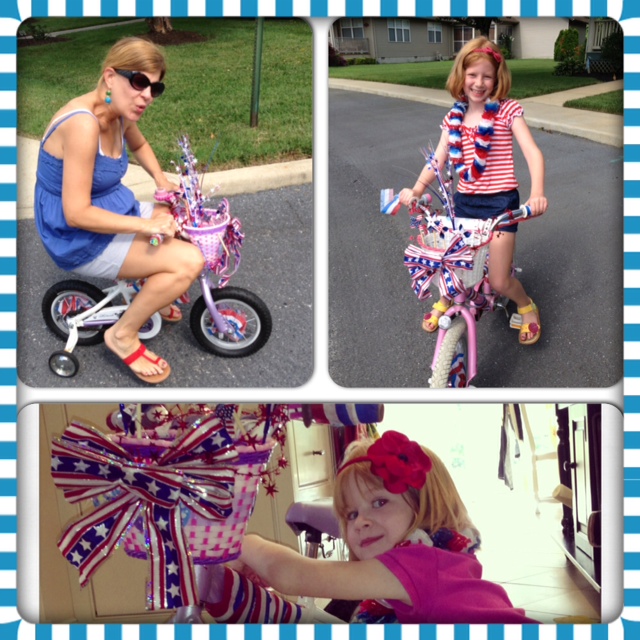 After two weeks of driving the Mazda5, I confess, I didn't want to return it. The girls continued to delight over the chance to pick which row they wanted to sit in and the car drove like a car, parked so easily, was smooth and had luxurious features. I grew to like it quite  a lot. As for what we'll do when it's time to trade in my now 8-year-old Mazda3, it remains to be seen. Honestly, I have my eye on the Mazda CX9 because it also drives like a car even though it's an SUV and has the three-rows but Mr. WM is pushing for the Mazda5. I think the price of the Mazda5 also appeals to him (again, that practical side) because they range from about $19,000 – $24,000.
Are we the only ones with the ongoing debate of two rows or three rows? To minivan or not to minivan?
Our final conclusion – what Mazda has done with the Mazda5 is build the perfect urban minivan for anyone who likes a sporty feel, a smaller car but needs the extra cargo room or passenger room. We were lucky to have the time to test her out.  Time will tell what we decide…in the meantime, back to my Mazda3.
Disclosure: Me and my family were invited to attend a Design Forum Weekend as guests of Mazda in Charlottesville. They provided the vehicle for us to drive. My opinions here are all my own.