Nothing like a #PolarVortex closing school or what feels like almost weekly snow days to bring the stress and worry over child care to the forefront to most parent's minds. Today seems like the perfect day, then, to share with you the inaugural guest post for WM in 2014, written by one of my favorite area bloggers, Laura Harders from Beltway Bargain Mom. There are a few things I particularly like about Laura's post. First, it's practical – Laura is sharing with us a service that almost every single one of us might need. Second, the service was founded and started by a local DC area mom. Those of you who read me regularly know that I particularly love supporting small locally owned female businesses. And finally, even if you don't need these services, you might be inspired because this is also the story of a local area mom who saw a need, in part because she is a mom, had her "aha" moment and then seized it by starting a new business.
Read on friends and thank you Laura, for this invaluable information!
————————————————————————————-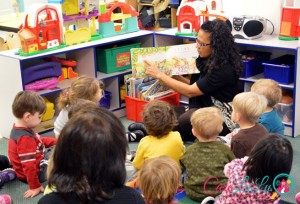 When it comes to your kids, you want the best. As a parent, it's okay to be picky and want to research everything down to a "T". Admit it. You're the parent who always needs to know. You research the type of food your kids eat, the toys they play with, the activities and places you go. You read through all the online reviews of kid gear before you buy it. It's in your nature — and really a part of your job description as a parent — to make sure your kids are safe, learning and thriving.
 When local mom Evgeniya "Jen" Usmanova decided to return to work after having her second child, she embarked on the journey to find a quality day care provider. Jen and her husband Patrick Matos have two small girls and had a long list of criteria that the perfect-for-their-family childcare provider should have. And not just the standard requirements that all parents want, like a licensed caregiver, clean facility, safe, responsible and happy staff. But also more specific items that were important to them: Close proximity to their home or workplace, longer hours of operation due to the demands of their jobs, specific programs introducing foreign language and culture at a young age — crucial for their trilingual family, which speaks English, Russian and French — and so on. Jen ended up spending months researching, calling, compiling key info and personally vetting day care options here in the greater DC area. It was a lengthy and labor-intensive process, and she ended up visiting 16 different child care centers before deciding on one that was the best fit for her family.
 Jen had her "aha" moment when talking with other parents about their journey of selecting a day care provider and preschool. She realized she wasn't alone; researching and finding all the important information on day care and preschools is a painstaking process. There's a lack of information online: few websites share tuition rates, hours of operation and specific information on program and curriculum. Parents feel the pressure of finding a nurturing and healthy environment for their child that meets their family's unique needs and criteria, while juggling everything else in their normal, busy life. They need a resource to help organize and streamline the research process, which is honestly a daunting task for most moms and dads. Unless you're a parent who loves spending hours scouring the internet, making calls and physically visiting numerous facilities… I'm guessing you have other ways you'd rather spend your time. And in this digital age, Jen was surprised that there wasn't already a website that was catered toward parents searching specifically for day care and preschool options, which provided accurate and thorough information.
And so the idea for CareLuLu was born. Jen and Patrick teamed together with IT guru Gabriel Marques earlier this year to launch a web-based
platform to help simplify the child care search for other parents. Those months of research and frustration in their own day care search, fueled their new company's mission to create a solution for parents.
CareLuLu.com currently covers the Washington, DC market with plans to expand in the near future. It is an innovative idea: a free online resource to help parents find the perfect day care or preschool for them. The site is perfect for parents returning to work after a new baby, as well as families new to the area seeking day care providers, parents looking to switch child care facilities, or really any parent looking for local, real-life reviews of preschools and day care providers. CareLuLu aims to help alleviate the stress and simplify the child care research/interview process, by doing all the research for you and collecting all the data, along with real-life reviews, into one user-friendly platform. You can find all the important information and compare services among local providers matching criteria that matters to you. Some of the 30+ unique search factors that can help narrow down your search include: tuition prices, distance from your home or workplace, hours of operation, languages spoken, amenities, programs offered, age groups, special needs, peanut-free facilities, tree-nut free facilities, part-time of full-time, meals included, transportation offered, extra curricular activities, and more. Plus, you can use CareLuLu's convenient online booking tool to schedule a tour of your top day care facilities.
Considering the theme of Wired Momma for 2013 was the importance of "me time", I'm thrilled to share a free, online resource that helps parents perform a customized search and cut down on the amount of time researching day care and preschool options. Here in the tech-savvy DC area, I have a feeling moms will love this new online tool.
Any site that makes life easier for moms and enables more "me time" is winning in my book!
 To connect with CareLuLu and find or review a day care or preshool, join their growing community:
Online: http://carelulu.com/
Facebook: https://www.facebook.com/Carelulu
Twitter: https://twitter.com/mycarelulu
Pinterest: http://www.pinterest.com/mycarelulu/
Blog: http://carelulu.tumblr.com/
 About the Author: Laura Harders is a part-time working mom of two who blogs at Beltway Bargain Mom. She enjoys sharing her family's frugal adventures, free resources, and ways to save money while having fun here in our nation's Capital.