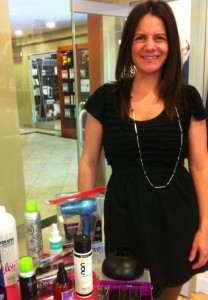 We are mid-way through this brutal summer and if you are anything like me, you have crazy lion hair in the DC humidity, so in the spirit of "I am moving so you need to bear with me and accept re-posts of old posts" – today I am reminding you of this totally amazing post from last summer – complete with tips from one of DC's best hair stylists, Denise Sharpe (and full disclosure, my hairstylist), including lessons with a flat iron and a chance to win an Express Blowout with Denise's trained protege, Paula, or get a discount with Denise for an Express Blowout just because you love moi and you read this post. So read on, kittens.
If life's lessons begin and end with an episode of Sesame Street , then I'm pretty sure this video wraps up how I don't feel every summer about my hair, but really want too. In my head, on the beach or by the pool, I look like a sexy summer goddess.
Exhibit A:
In reality, well, quite the opposite.
Realizing I couldn't face another summer of bad hair, I sought out some advice from my beloved hair stylist, Denise, of Denise Sharpe Hair, located in Bethesda. Denise has been a stylist for over 20 years and is also a mom to 3-year-old twin girls. So like us, she's busy but stylish. Read on for invaluable hair and time-saving tips.
First, let's talk about hair cut and color trends for the summer. Tell us what styles are popular right now, what looks will keep us from having bad mom hair, and what the color trends are hot for the spring and summer?
For the classic mom, a soft and side swept graduated bob is very popular, with some choppy layers to emphasize the texture of her cut. For the trendier mom, I'm doing more fringe and heavier bangs . The inception of Keratin Complex Treatments is making this style more accessible to women with wavy and frizzy hair because now they can have the fringe and the sleek bangs without the risk of too much frizz and curl. For the funkier mom, the glunge look is more popular.
Glunge? Do tell, I've never heard of it. Are we talking hair bands? Brett Michaels meets Kirk Cobain?
Yes! Glunge is the marriage of glamour and grunge. 80s hair band meeting 90s grunge band is spot on, but let's think of attractive females as our visuals here, not unkempt dudes. Think Drew Barrymore meets JLo, so a loose messy tousle and this style hides kid puke and yogurt stains pretty well. Often this hair style looks unwashed, though it usually isn't, with the help of synthetic products like pomade and dry shampoo .
So what about color trends for this time of year?
Michelle Williams' icy blond look is very popular for blondes but it is high maintenance. It requires color about every 3-4 weeks. For red heads or brunettes, Drew Barrymore's "St. Tropez" highlights work well for the summer. In that look, her scalp is a richer color and the ends are lighter. Also for red heads or brunettes, Kim Kardashian's "Root Beer Float" highlights are very trendy, meaning she accents her rich dark brown color with warm reds. What's important is to use a sulfate free shampoo on any of these treatments for maintenance.
Excellent. So moving on to the inevitable bad-hair day or when we are short on time, what is a busy gal to do?
Dry shampoo is the first thing I reach for on a day when I don't have time to shower or wake up with bad hair. It helps revive the blowout from the day before, and I'd like to point out that it's best for your hair if you don't wash it every day.  Another quick fix is grabbing your child's leave-in detangler. If you have longer hair, a side-swept braid is a good way to mask unwashed hair. A cost-effective way to clean up unwashed hair is using corn starch or baby powder. Think Julia Child and just grab a pinch of it, and you will notice how it absorbs oils and then use a wide tooth comb or paddle brush to brush your hair through. And finally, there's always our friend the flat iron. The flat iron is perfect for working through random bed-head fly aways but also helps your hair not look so contrived; you can keep it loose and playful with the flat iron.
I'm glad you raise the issue of the flat iron. I routinely bow to the Gods who invented the flat iron. But how do I know I have the right flat iron for my hair? And are all flat irons created equal, do I really have to spend a mint because I bought mine at Target for $19.99.
What makes or breaks a good flat iron is really the edges. You want beveled edges, which means rounded, for smooth styling. If you hair is short or medium length, the beveled edges should be about an inch thick with a thin plate inside. You are looking for a square plate for hair that is longer than shoulder length. For blondes with the flat iron, keep it at the 350 temperature because blondes have delicate hair. Brunettes and natural red heads should put the flat iron temperature at 400-450 degrees. Remember that "slow and steady" wins the race with a flat iron. If you race through it at too high of a heat, you might have to repeat the process. And yes, you can purchase an inexpensive flat iron at Target or the grocery store, but it might need to be replaced in a few months whereas a more expensive one will last longer.
So what should we all have in our hair survivor kits or purses?
Depending on your hair style and length, you should pick from any or all of these 10 tips: non-elastic scrunchies like Goodie brand from the pharmacy aisle, non-butterfly flat clips for drying hair or styling hair, Bobby Pins complimentary to your hair color or hair pins to loosely pin back pieces, Rat Tail comb for sectioning or combing fringe, a thermal round brush for volume and flip, a diffuser to embrace your natural texture or curl, a blow dryer with a nozzle, pin curl clips for side swept bangs or to train new growing-in bangs to sweep over between haircuts, dry shampoo and a restylizer such as Wen lavender replenishing mist , Catwalk Curls Rock Curl Booster , "It's a 10" miracle leave-in or Arrojo Hydromist .
Now tell me how I can possibly not have lion hair all summer long. I've tried every product under the sun; I spend gobs on product every summer trying to beat back the inevitable frizz and chaos that comes with DC humidity and I can flat iron to no avail, the minute I walk outside, I look like I'm wired for sound (perhaps the real reason I'm called Wired Momma…)
There are two things you can do, the Express Blowout or the Keratin Smoothing Treatment. The Express Blowout takes just under an hour, lasts for 4-5 weeks and costs between $99-$150 depending on the length of your hair. You do not need to use certain products after you get the Express Blowout, you just can't wash your hair for 8 hours after. Some women wait a few days to wash their hair because they believe it makes the treatment last longer. But this is how you beat the humidity and keep your hair looking sleek in the summer. It's really a perfect solution for the busy mom; you spend less time managing your hair and less money because you don't need all the product. If you'd like a treatment that lasts longer, the Keratin Smoothing Treatment lasts 3-5 months, takes anywhere from 1.5 to 2.5 hours, depending on the length and density of your hair, and costs between $350-$500. For both of these treatments, you can get color at the same time.  One client told me that her hair was having an identity crisis after the Express Blowout because it really did stay smooth and sleek despite weather conditions. Look, why not have sleek hair and bodies all summer long, right?

Can pregnant or nursing moms use this treatment?
No. For pregnant or nursing moms or women who are environmentally conscious, we can do the Research in Beauty treatment. It is a keratin gold retexturizing treatment, free of formaldehyde and aldehydes. It lasts about 2-3 months and costs between $350-$500.
Update from Monica:
As soon as I heard about the Express Blowout, I was willing to kick an old lady down to get to the salon fast enough to try out this treatment. I had it done, waited about 12 hours to wash my hair and never believed it would work. Almost five weeks have passed and it is defying all the odds, my entire family is wondering where their mocking hair jokes have gone for the summer because I am still looking sleek and stylish – this after runs in the humidity, hours on the beach, even just walking outside. It is a summer miracle.  Also, I've not used any product or the flat iron because I haven't needed too. Am I breaking up with my flat iron for the summer? I am ready to now sing "I love my hair".
GIVE AWAY ALERT, FRIENDS:
Denise is offering 25% off to all Wired Momma readers who want to try the Express Blowout. All readers are eligible for the discount, just  mention this post to Denise when you go for your treatment. One lucky winner is going to win an Express Blowout with Denise's protege, Paula. Entering to win is two-part: first head to the Wired Momma Facebook page, hit "Like" and either Like or comment in my post….then part two:  head over to the Denise Sharpe Hair Facebook page and hit "Like."  The one lucky winner will be announced on Saturday July 21 on Facebook and the give-away winner can only redeem her Express Blowout on a Monday between 10-4 or  a Thursday between 11-7pm. Don't forget, for everyone else, just mention this article to Denise to earn your 25% discount on the Express Blowout! Follow Denise on Twitter @sharpedenise for easy access to great haircare tips!
Happy summer . . . love your hair. . .