When you have a kid who goes to her sister's t-ball games dressed like this: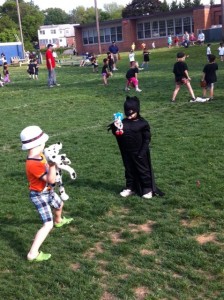 It seems pretty obvious that she's destined to have a Superhero Birthday Party – doesn't it? I mean, if a kid is willing to remain in costume, despite the heat, she is committed to the cause. She is a true crime fighter. Most of her now four years have been spent in costume….it began with Pirates though she flirted a little bit with Tinkerbelle. Then it moved to Spiderman, sometimes she'd mix in a dragon costume, she danced with Wolverine….but she discovered her one true love in Batman. And so it remained for almost one-third of her life. Which is a big commitment before you turn four-years-old.
But look, someone has to keep the Joker at bay, right?
So when it came time to plan her birthday party, I knew that not only did we have to have a Superhero themed birthday party but it was time for her to meet Batman. That part was a secret though – and trust me – I worried how that surprise could go over to a room full of 3 and 4-year-olds.
I am a traditional birthday party thrower. I like to have them in my house, with party decorations, balloons, games, cake and goodie bags. I loved all of my birthday parties as a kid, I loved the home-made everything that came with them and it's a family tradition that I haven't tried to do differently with my own kids. But the trouble is – when you have the party in your house – you can't really actually enjoy the party because you are so busy running the party. So this year – I also did things a little differently and I worked with Laura Betz from Thumbs Up Party Planning. I've interviewed Laura before on my blog, I've gone to a party Laura threw for a friend's daughter at Glen Eco Park (that one was a Fairy themed one and it was fantastic), but I hadn't yet used her myself. The time was right.
Laura's company offers a wide variety of party themes (for boys and girls…any popular kid theme you can think of, she's got nailed down to a perfect science) and she offers an exhaustive list of services to help make your party amazing. She can handle your party from the invites to the goodie bags and every detail in between.  Because I am a true-lover of Etsy and delight in the pins on Pinterest, I wanted to do the invites and decor myself but really wanted Laura and her team to show up and run the games so I could just sit back and watch and soak it all in. From the beginning, Laura put me at ease – told me when she'd arrive on the day of the party, confirmed the number of kids showing up and she even did the unthinkable….she found Batman himself to come to the party.
Because it was a girls superhero party, I knew I needed to find some pretty great decor and naturally I turned to Etsy for fabulous goodie bags and cupcake toppers.
The big day was Saturday December 1 and Laura and one of her employees arrived before show-time to set up. They
immediately set up an area of the room for all the superhero capes for the kids to pick out and dressed up the room with inflatable superheros. Laura is so welcoming and natural with the kids, she gathered them around and encouraged them to pick out their own superhero gear and choose what sort of design they wanted for face painting. Little did they all know Bruce Wayne was about to make an entrance.
Now, about that. Look, I didn't put any thought into Batman's arrival beyond worrying if he was going to terrify the toddlers – so imagine my delight (and the delight of every other mom in the room) when Batman was incredibly handsome to boot.
Oh – HELLO BATMAN. WELCOME!!!!!!
Right? Wowzers.
Batman's surprise entrance to our little superhero party definitely surprised and delighted all the mothers children and my beloved birthday girl was just in awe of her favorite hero. Oddly, her 7-year-old sister was terrified of Batman and took a bit to warm up to him. Go figure. Batman then led the children in some hilarious superhero training, bringing them around small obstacle courses that Laura helped set up and encouraging them always to fight the bad guys and get good grades in school and listen to their mothers.
Excellent…..he's handsome and dishes out strong valued advice….can he stay?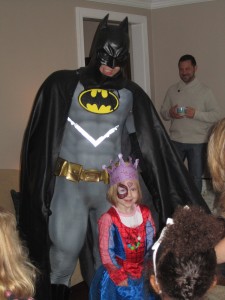 After learning about the qualities of a superhero and participating in the hilarious superhero training, Batman guided them through a rousing game of Villain Identification and of course ended with Muscle Mania, where they all took turns stuffing their costumes with balls to see how many muscles they could get. It was so funny to watch and the kids loved it. By then, anyone who initially was a little scared of Bruce Wayne had completely forgotten about it. Laura works with Heroes for Hire which was the company who delighted us with Batman….and also offers an array of characters to come in costume. They really were a fantastic company.
In the end, all the kids really were dazzled by the crime fighter and enjoyed playing all the games he and  Laura coordinated for the party. What I didn't anticipate going into it was just how much having the real Batman would inspire so many of the kids in the room, especially the girls, many of whom aren't necessarily drawn to superheroes. So many friends emailed later to let me know how much their girls were excited by superheroes and commented that now they know that superheroes are real, they better keep their eye out for more bad guys.
Laura helped me pull-off one of my favorite kids birthday parties yet and I got to sit back and just enjoy watching all the events unfold and really feel like I was part of the party instead of running around like a crazy person keeping everything moving and stressing about the next game. It made such a difference and is something I plan to do again in the future.
Bottom line – if you're on the hunt for a character appearance (might I recommend a handsome Batman?), check out
Heroes for Hire
, or if you're like moi and you love having parties at your house but actually want to have the chance to enjoy the party, I cannot recommend
Thumbs Up Party Planning
enough – not to mention how much I value supporting local mom-owned businesses! Thank you to Laura for such an amazing day! Be sure to
"Like" moi on Facebook
to keep up with the fun and the drooling over the super hot Batman.
Disclosure: Laura gifted her time to me. My opinions here are all my own.