Fun news. To celebrate the fact that it's Friday — I'm doing a flash give-away for two totally fabulous upcoming shows at the Warner Theatre.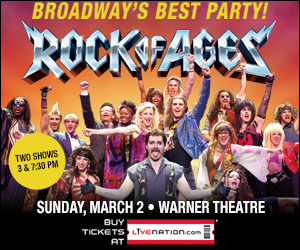 Get your 80s on, tease up your hair, and get ready to dance with the Rock of Ages show on Sunday March 2. White Snake anyone? How about a little Journey?
Here I go again on my own……..
Is that song going to be in your head the rest of the day?
#You'reWelcome
How about a little We Built This City…..we built this city on Rock'n'Roll.
I have 2 tickets to give-away to either show at Warner Theatre, 3pm or 7:30pm on Sunday March 2.
For those who want to join me in my Flux Capacitor and head back in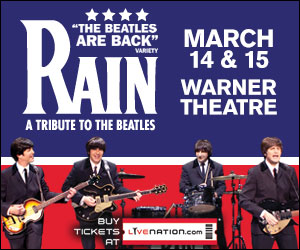 time even further…instead to the 60s… how about 2 tickets to see Rain – A Tribute to the Beatles on March 14  at 8pm or March 15 at 8pm at the Warner Theatre. The muli-media show is supposed to be amazing and a ton of fun.
Date night, anyone?
Am I handing you an excuse on a silver platter or what?
Obviously you've already hit "Like" on Wired Momma Facebook page. Now just head on over there and comment on my post about this give-away. Specify which event you want to win the tickets for and I'll announce the winner on Monday. Good luck!