Is anyone else wondering how it's already Christmas time?  Is anyone else feeling like this lady below?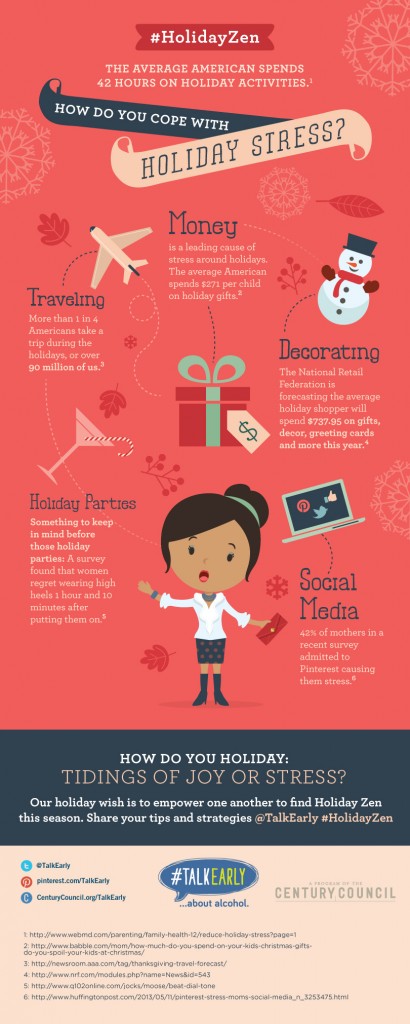 Fret not kittens, we can each find our #HolidayZen and today's third annual WM Favorite Things Guide should hopefully help someone with an idea or two! I faced a new challenge this year – to find things that boys or husband would like. This is definitely a challenge, one that I was most definitely up for.  Because I'm sure you're in the throes of shopping and if you're anything like moi, that shopping includes a date with your laptop and wallet, let's get started.
For the accessory lover: SimplyOm Jewelry. Each piece of jewelry is made by a woman in a developing country and part of the proceeds go
back to training  and empowering women in these countries to help them overcome poverty. How's that for a double whammie of goodness? You can sport some really beautiful and fashionable pieces and contribute towards supporting the work of women in developing countries. I purchased a necklace from the founder at a conference in October and wear it all the time.  This is the kind of gift you can get for a sister, cousin, aunt, mother-in-law, you name it, and everyone's happy.
For the water bug: This is one of my favorite things of the year: personalized towels on Etsy by LittleHouse Kids.  I purchased these towels in the spring for my girls, with each wash they get even softer, and we had no troubles during summer camp – they always got the right towel. I can't tell you how many compliments we've received on them and how many times I've since purchased them as a gift for others.  Earlier this fall, I ordered them in bulk for some of my daughter's best friends, by now of course we know when their birthdays will roll around – and the gifts are already in my closet upstairs. How uniquely and unusually organized of moi. Note: this gift is great for boys too! They take a while to ship — so plan to order these well in advance but I can't sing the praises loud enough!
For the science kid: A new gift idea: science projects from Appleseed Lane, it's a great for girls and boys ages 4-10. In fact, my little one is asking only for science experiments and detective kits this Christmas, so I was thrilled when my friend Kate from The Big Piece of Cake emailed around this suggestion the other day. Started by two DC-area moms, building off the STEM concept, these monthly science kits arrive on your doorstep and if you have siblings in the house, they will add in extra supplies for the sibling. Even better, Certifikid is running a deal on these right now.   Themes for 2014 boxes include: Magnets, Sports, Space Exploration, Underwater Adventure/Sea Creatures, Amusement Park Physics and Green Energy (Solar, human kinetic energy, etc).
For the new mom: Motherhood is the necessity of invention, as we all know. No better example than this fabulous new swaddling blanket my neighbor introduced me too, started by her friend: The Sweet Roll Swaddle. Give the new mom in your life the gift of precious sleep with this beautiful and soft swaddling blanket, made here in the USA, invented by a mom herself. You know it's good.  Here's a sweet video to watch to get a sense of how the baby responds to these swaddling blankets.
For the pet lover: Now that we have a 3 month old puppy in the house, I'm focusing more on gifts for animal lovers than I have in previous years. Again, another find on Etsy, this time I learned of the shop from my good friend and former next door neighbor. You can order a customized print of the dog and change the city, the background, the year to note the year the family purchased the dog. Also, another perk, these are made right here in the USA for those true patriots out there.
For the husband, uncle, cousin: Just yesterday, I read what is quite possibly the most hilarious Gift Guide I have stumbled upon this season. The guide hails from the site Divine Secrets of the Domestic Diva and she pulled together a list of gift ideas for the man in your life. There's something for everyone on here. To you Jocelyn, who charged me with finding gifts for men, I say, You Are Welcome.
For the Gal on the Go: This would be all of us. Recently, I discovered this treasure in Target: the wallet/iphone case combo with a wristlet loop.  If memory serves, it ran me $10. I went with the faux coral leather option with the pink interior and it's perfect for running out the door to pick up the kids. It fits just my phone, my license and my debit card – basically all I need – and I love not lugging a purse.  All you need is a pair of texting gloves and you're all set. You deserve this gift for you along with an easy stocking stuffer for others in your life.
Now we transition to the WM Fav Charities Guide.  'Tis absolutely the season for giving and now that my oldest is 8 years old, I find it especially important to really teach her the importance of giving to others this season and talking more about what that actually means. Every year I like to feature local DC based charities but this year, I'm going to include one beyond our borders as well. Let's get started.
Give An Hour: A non-profit that provides mental health services to service members and their families. This is such an important organization and one that deserves our attention.  DC being a government town, I challenge one local reader to not know someone who hasn't served in Iraq or Afghanistan or who doesn't work for one of the branches of the military. Give An Hour is not just based in DC, however, they are a national non-profit with branches across the country. Just $17 provides one hour of free counseling for service members of these two wars and their loved ones. I don't know about you, but I often find myself thinking about the spouses who are left behind and often with young kids, as I think about service members. If you don't want to donate money, you can give the gift of time. 
Only Make Believe: Regular readers of my blog know that I am an avid children's theater fan and absolutely relish taking my girls to the theater. I recently learned of a local non-profit whose mission is to bring the joy of theater to children in hospitals.  With branches in NYC and DC, this organization is truly doing remarkable work. I'd urge you to consider a donation as you think about where you might give this year.
HAS Haiti: Some people like to give to others outside our borders, which obviously I am also a big supporter of as well, particularly because I grew up in a few developing countries. This year I worked with a hospital based in Haiti but that was founded by the Mellon family, Hospital Albert Schweitzer. It is a hospital that provides critical healthcare services to the people living in the Artibonite Valley in Haiti, outside of Port-Au-Prince. If you've followed media coverage of Haiti, you'll know that there is a reluctance to donate to Haiti because of rampant corruption. This is not something to worry about when giving to HAS because it is an organization founded by the Mellons, with offices based in Pittsburgh, therefore you can be confident that all the money you give is going straight to those in need in the hospital. Additionally, the majority of the hospital's patients are women and children. Much of their work at HAS focuses on maternal healthcare, breast-feeding education and vaccines for infants and children. I can't say enough positive things about the profoundly important work of HAS to the people of the Artibonite Valley in Haiti.
Happy Holidays to my readers, family and friends! As always, I am thankful to you for reading WM throughout the year and hope you have a wonderful holiday season!  Be sure to hit "Like" on the WM Facebook page because even if I don't post again here in 2013, I'll be posting fun things on FB.