We each have our own story and reaction to last night's election night outcome. But for me – honestly – the thing that I was most excited to share with my girls this morning – and to watch unfold in January – was the victory for women last night.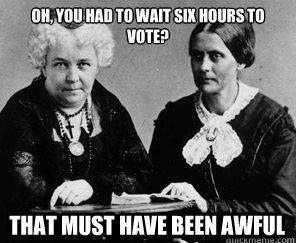 I am in awe of the results from election day for women. No matter which party you voted for, SIX women picked up Senate seats last night.
SIX
This morning we can tell our children that 1 in every 5 Senators is a woman. Just yesterday I was explaining to my almost seven-year-old why she should always vote when given the chance and in a somewhat feeble attempt to give her perspective, I explained to her that women in our country have only had the right to vote since 1920 when the 19th Amendment passed.
Okay, I left out the part about the 19th Amendment but I did try to make a big stink about cherishing the right to vote and the women who came before her who didn't have that ability. This was how I tried to explain to her what freedom means.
So now we wake up today to learn of this record-breaking moment for women in the Senate, though according to this Bloomberg piece (notably the only one I could find thoroughly covering the advances of women in the Senate), a few races were still being tallied as they published the piece around 3AM.
I think this is so significant and important not just for our daughters to know but also for our sons – for them all to know that this is a defining moment in history when women are striving for elected office and reaching elected office in record numbers. Again – on both sides of the aisle. And how about the state of New Hampshire? In case you didn't hear this through all the other election night coverage, here's this amazing fact from the Bloomberg piece:
"In neighboring New Hampshire, female incumbent senators Kelly Ayotte, a Republican, and Jeanne Shaheen, a Democrat, will be part of another first. New Hampshire in January becomes the only state to have women in the governor's mansion, in both Senate seats, and in all House seats."
I look forward to watching these new female elected leaders take office, to seeing what new issues they bring forward and to continuing the conversation about who our political leaders our with my girls – and how meaningful it is that more of our leaders are women.
How did you explain what freedom is to your little ones? I definitely struggled with that one.
For more fun and frolic – though admittedly because I know just how diverse my readers are and they don't come to me for political commentary – I generally try to avoid political pieces – be sure to "Like" the Wired Momma Facebook page. For the next two months, I will have less time to blog but I will definitely check in more with everyone on the WM FB page – so don't miss out!