Today's post isn't going to solve world peace, resolve hunger crises or help reach a consensus on the sequester. But it will  – or rather should  – solve some last-minute packing crises that most women face when prepping for a trip. Especially summer travel with children. Particularly if your summer travel has you going on a physical endeavor. Example – are you headed to Walt Disney World?  Prior to our trip last month I am not ashamed to admit I put quite a bit of effort into assessing my shoe choices.  I knew we were going to be walking miles a day. I knew it was going to be humid. I knew I was going to be sweaty and grumpy and need comfort. But I just couldn't toss my running kicks in my suitcase with a pair of white socks and call it a day.
#QuelleHorror
I also knew that the kind of bag needed for such a trip was a dilemma. When one is hot and walking and dealing with hungry kids, you can't have the added weight of a shoulder bag on your body. Yet you also need to pack water bottles, snacks, cameras, phones and the inevitable swag the kids make off with in the stores.
What does a gal do?
Here's what I did.
I first raided DSW. I went to the biggest one I could find. And I went alone. I needed razor like focus and time to deliberate. I knew I wanted to look somewhat stylish during the day and I knew I couldn't deal with lame looking sneakers. I also knew that if my feet hurt, then that is just stupid. If you know you are going to walk a ton, and you have small children, and it's going to be super hot and humid, your feet need support and your feet need comfort. I was hoping to find a brown sandal that offered some cushioning and support but didn't have any straps between my toes. Those bother me unless I am in flip flops. And flip flops do not meet the criteria of offering support all day long unless you are sitting in a beach chair.
For reasons that escape me entirely, it is not easy to find the kind of brown sandal I was looking for but  when life gives you lemons……I found what worked out better for moi. I found these New Balance ballet sneaker flats. They have remarkable cushioning and support, they slip on and off easily (read: airport security), and they pretty much go with everything. You can wear them with a casual summer skirt or shorts. Since purchasing and wearing them almost daily, I regularly am given compliments on them and asked where I got them from. Good old DSW.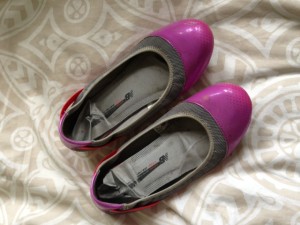 But if you share the following trait with moi: packing lightly is not in your vocabulary – then obviously you need more than one pair of shoes. Again, today's post is about pairing comfort with style, and without realizing, it's also quickly becoming an ad for DSW and New Balance because I also stumbled upon these kicks: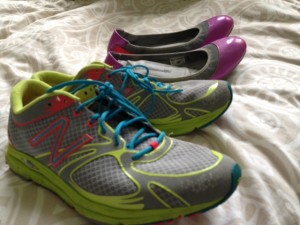 They are trendy with their neon brights, they are incredibly light weight and take up little room in a suitcase and they meet my criteria of offering much needed support for hours of walking and crowds.
Moving away from shoes, now what about the purse? I settled on two choices. My daytime purse and my evening purse. The evening option required I pack fewer things, which really is a challenge for moi (again: packing lightly is not something I do. Ever).
For the daytime, I went with a Camelbak backpack. First, the reality is, if you are trekking around all day with children, you need a backpack, like it or not. And if you find one that looks somewhat gender neutral, your husband will carry the load as well. Also, if you are headed in the heat, you need water, lots of it. The Camelbak gives you not only padded shoulders for the backpack, but the ultra convenient zip down the middle so the other person can access whatever is needed without you taking the damn thing off is really a brilliant idea, and then there is the easy access of the water in the back. True, I felt a bit like people in my family were milking off me when they would stop to access the water from the Camelbak but this pack was the saving grace for me every day. Also, I suffer from migraines and dehydration is a serious trigger for me – so the truth is – I need an obscene amount of water on any given day, but especially so when wandering the humidity of Florida for hours on end.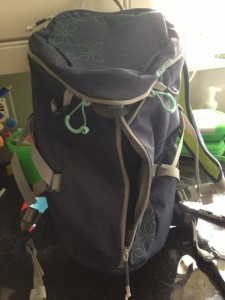 Back to the theme of me never packing lightly – however – clearly when we headed out the door in the evening for dinners, I wasn't going to toss the Camelbak over my dress. The question was – what sort of purse would suit evening summer dresses? I am beginning to worry you're thinking I've transformed into Sporty Spice between the sneakers and the backpack. Fear not.
As luck would have it, when shopping alone with my hawk-like focus at DSW, I stumbled upon a super fun bright yellow Betsey Johnson purse. I could wear it across my chest with the long strap, it was small enough that it packed easily and it forced me to put only essentials inside for evening outings. Never one to settle on practical colors when shopping for purses, I was tempted by the lovely cream colored one but reasoned that the bright yellow is just more fun and would add a great accent color to really anything I was wearing – and it certainly did.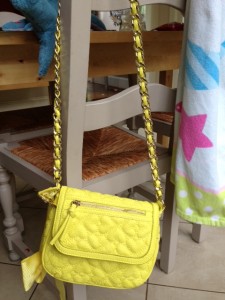 I also liked the small exterior pocket for storing a hotel key card or a cell phone for easy access. Naturally, I am also a sucker for interior design and you can be sure a Betsey Johnson purse never disappoints: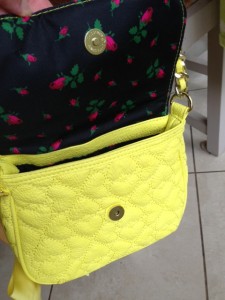 Right? It was a most excellent score.
While these are my most triumphant purchases, there's more. What about the mom headed to the beach and pool this summer? What if your travels take you water bound instead of walking bound?  Look, I am a HUGE fan of the Scout beach bags. Why, you ask? Simple – they are super stylish, come in a great array of colors and patterns and have 6 exterior pockets for easy access to sunblock, water bottles, sunglasses, phone, whatever you need – without losing time wading through the big deep bag.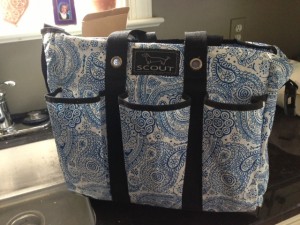 Finally, how about communications with families during your trip? And photo documentation?
My sister went away last summer and all of a sudden, these adorable postcards with pictures of her and her husband started arriving in my mail box, including a different return stamp style picture of themselves, and then their personalized messages – all sent from her phone. It's brilliant. Don't send postcards in 2012, instead send a Postagram. 
The app will send pictures from your phone or Facebook straight to your family or friends – an easy and fun way to personalize your trip and share it with friends! Even my mom used the Postagram app during our Disney trip.
My other new fav app is Story by Disney. We first learned about it last month at the Disney Social Media Moms conference and it's a beautiful app. It's free to download and offers you a quick, convenient and simple way to transform an experience into a photo album and share it via email or post it on Facebook. You can add video, change the text, change the background color and then post it on Facebook and share via email. It's that simple and it really does make anyone a storyteller. I tried it out a few times after our Disney trip and loved the results. It's a fabulous way to pair a series of pictures or an entire afternoon and share it with family and friends with pizzaz and personality instead of just posting individual pictures on Facebook.
There you have it — I believe you can pair some style with comfort while traveling this summer with the kids. Not a deep or profound topic today but a great way to kick-off a rainy Monday, right? For the "best time you ever did have" be sure to hit "Like" on the Wired Momma Facebook page.