Hello readers! Today I'm turning over the pages of WM to a dad who was inspired by his kids, found a hole in the kinds of books he was reading to his kids, and turned that into a real book. It's an inspiring story for anyone who has an idea and sometimes, it's fun and important to highlight the Dads here on WM. Also, it serves a reminder that Dads are also chasing different dreams, balancing work with life and figuring out what to give up along the way. With that, I give you Matt Damman (I know, I know, so close but not quite Matt Damon).
——————————————————————————
For over two years, I lived a double life. No, not one of those exciting, 'edge of your seat' dual lives full of dark secrets, seduction and thrilling suspense.
Mine was a little different.
By day, I was in a suit sitting on a trading desk buying and selling stocks and bonds for a Wall Street investment house. But, by night, while my colleagues were pouring over market data, pouring a drink or just watching TV, I was in sweats on the couch with a MacBook covered in my kid's storybooks. I was trying to launch a new brand for children.
Yea, not so "thrilling"…but I tell myself it was much safer.
You see, I didn't set out to write a children's book. Not from the start, anyway. It happened and it's been an incredible journey, but before I tell you about that, let me back up and introduce what this is all about.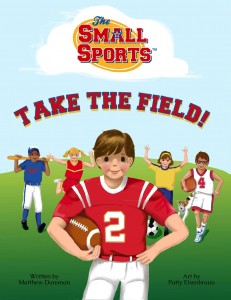 Wired Momma readers, I'm pleased for you to meet my friends, The Small Sports™ (Find them on FB here: www.facebook.com/thesmallsports).
I created The Small Sports while sitting on our family room floor. No team of "creatives" running around, no paid focus groups, or marketing departments here. Just a dad with an idea.
The idea for the concept hit me after reading dozens of books with my two young children (then ages 3 and 1), and watching hours of Sprout, Nick Jr., and Disney Jr. Like many parents, years of education in literature, history, and math have been replaced in my head with Little Einstein episodes, every line to Monster's Inc. and the tune to the Mickey Mouse Clubhouse's Hot Dog Dance. Hot dog, hot dog…. (Sorry)
But, I was cool with that… I just found myself asking a simple question.
Where were the sports themed characters?
I mean, there were talking trains, tons of princesses, and a bald French-Canadian kid with parents who wore sweatshirts day and night- but where were the baseball, soccer and football players?
This got me thinking. There is so much that kids can learn sports  – values like teamwork, good sportsmanship and how to win and lose.
Sportsmanship is missing too often in sports both for the children and parents. So what could I do about it?
Well, it was staring me in the face – create a children's brand around that message! And, I wanted it to be different. I wanted wholesome characters, not the freaky huge head ones, or the over-sexed sassy dolls you see in the store with skirts that could be mistaken for a belt. I wanted a simple message that kids and parents could relate to. My excitement was building… There were only a few small issues.
I had to work all day! Ugh. I also refused to give up time with my wonderful wife and children (I had given up on hitting the gym at this point, though). Oh, and I also had no idea how to actually launch a children's brand. Minor details, right?
Eventually I partnered up with a wonderful long-time family friend who is our very talented illustrator.  She helped bring life to The Small Sports idea and after over 20 drafts of the book, countless hours pulling out what little hair I have left, we felt like we were onto something.
Our first book The Small Sports Take the Field is based around a rough and tumble little boy, Jake, and his dream of having the perfect place to play. He is determined to clean up an old field by his house, but he can't do it alone. That's when his new friends come in. Together, they help make his big dream come true. It's a real tale of teamwork and friendship.
So, after over two years of writing, editing and directing the artwork – I also had to figure out how to self-publish a book, find a printer and build our website. I had no idea how to do any of those things when we started. But, we got it done. Somehow.
When the books finally arrived, opening it for the first time was truly amazing.  But, that didn't compare to the feeling of seeing my two kids
reading the book. My daughter even did the voiceover in our trailer on YouTube (check it out!).
We're growing the series and have a second and third book in the works. We are also seeking a publisher and potential animation partner.
Our goal is to introduce The Small Sports to children ages 3 – 8 years old. Teach kids about teamwork, good sportsmanship and encourage just having fun with sports.
With a little luck, maybe their parents will learn something too…
So, will The Small Sports turn into the sports version of The Little Einsteins? I'm not sure. But I can say, one really busy Dad with an idea can get something done. Just don't ask me if I've seen the latest episode of Breaking Bad.
You can find out book easily on Amazon
Thanks and Be A Good Sport!
Matthew Damman is an author, entrepreneur and co-creator of The Small Sports™. He worked for three Fortune 500 companies before hanging up his suit and tie in 2012 to co-found MAP Creative LLC. Oh, and he also now runs a consumer electronics company, Fonegear LLC. Matt graduated from The University of Michigan in 1998. He lives in Michigan with his wife Shauna and their two children, Claire and Jake.