As many of you know, my girls both have birthdays in November. And I've written a lot about birthdays…and here for Washingtonian. I love birthdays. I love presents. I love parties. I love cake. I love games. Oh…and I love throwing birthday parties, not just enjoying those things myself…though have I mentioned I love presents?
I do. Lots of them. Wrapped nicely. For me, I mean. Not my kids. Presents for moi!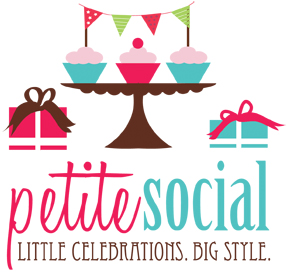 But back to kids birthdays, every year I claim I am going to keep it small and somehow I end up with a petting zoo and 40 kids running around my house. I'm pretty sure that's not small.  I get carried away while swearing it won't happen. So obviously I am in  the throes of obsessing over my girls party this year and how to handle it…while my older one pouts about having to share the spotlight with her pesky little sister…and what, with my wondering eyes, doth appear in my inbox?
Well, not 8 tiny reindeer but something close….today's Plum DC deal featuring the services of mom-owned and mom-run custom-design party planner extraordinaire, business woman Katie Nguyen Wells, who founded Petite Social. After hearing positive feedback from friends on throwing her own daughter's second birthday party, and market research showing a hole in the market here in DC, Katie launched Petite Social in July. She offers three levels of service and today's Plum Deal is ideal for the mom who wants to throw the party but needs some help with the decor.  By spending $62, you purchase the virtual plan, for which Katie normally charges $125. What you get for this great deal is Katie's designed inspiration board for your party (doesn't have to be kid, she also does adult parties).  Once you receive the inspiration board, you can then execute a beautifully designed party. And you don't even need to live in DC to purchase this deal, the brilliant thing about the inspiration board is that you can live anywhere to have Katie custom-design it for you! She never uses character themed materials, she brings to life her theme in a custom-way that she coordinates based on your wishes.
For parents short on time but still wanting the "wow" factor and needing the help with it, you can also apply today's Plum Deal towards Katie's other services, she offers a Petite or Grand level of service. The Petite is her most popular and with that she brings to life the custom design theme she offers from the inspiration board.
So back to moi….and my party…enter Katie for my purposes. Not only am I short on time and determined to host my girls party at my house, I have a bit of a hybrid theme going in that one child wants a Teddy Bear theme and the younger one wants a Pirate theme….Pirate Teddy, anyone? Ideas on how to seamlessly blend that one?
Needless to say, today's Plum Deal (which expires in a few days, so act fast!) is practically written for me….because it's my kid's party…and there will be no tears at this party! Or they'll be walking the infamous teddy bear plank…..
Disclosure: PlumDistrict DC gifted this deal to me through my partnership with them. As always, if I didn't love it, I wouldn't be writing about it. Stay tuned for a report on how the Pirate Bear party turns out next month.