You all know my new years resolution….and hopefully you are joining me on this journey….so what better way than to kick-off the new year with a great give-away. Last month, a new yoga studio opened in Bethesda called CorePower Yoga. As luck would have it, one of my closest friends, Vanessa Birch, also happens to be one of the fabulous instructors at this new studio – so how could I not spend some time there?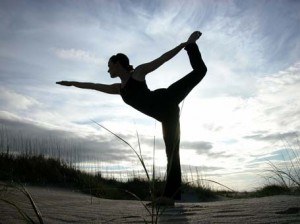 As someone who actually genuinely enjoys working out and is basically a horrible bitch if I don't get my super early morning workout in, I must confess I was really nervous about trying hot yoga. I am a runner, a spin-hound….but yogi, I am not. In fact, not only did I partake in a yoga class about one time in the entire 2012 prior to December, I had never ever tried hot yoga before. I was terrified of it. Nothing like a friend to lure you into something new, right?
I've since learned there are various degrees of hot yoga and the classes at CorePower in Bethesda are absolutely not as hot as they come – each class varies and the class descriptions will let you know if it's going to be about 99 degrees or 101 degrees. Let me tell you – now I understand that every degree counts. I've learned that Bikram is 104-105 degrees.
I was pretty much hooked immediately. I absolutely love the stretch in your muscles from being in the heat and the CorePower studio itself is ultra-inviting, with a fireplace in the lobby, beautiful wood floors and the instructors play excellent music. So far I've tried Vanessa's 9am class on Saturdays and was sore within hours. The good kind of store. The testament to quality moi-time sore.
And I've become obsessed with the yoga-sculpt class, which is a powerful workout stretching your muscles and toning you everywhere you need to be toned with the use of hand weights while in yoga positions. Seriously — I am hooked. Obsessed. Love it. The first few times I took that class, I would hit this wall later in the afternoon of sheer exhaustion but again, the good kind of exhaustion. Now I seem to be through that phase but it's another testament to a great workout, right?
The other great thing, CorePower offers its customers a free week to try it out and then a variety of different pricing options. The Bethesda location is right at the corner of Bradley Blvd and Wisconsin Ave, above the Staples, and parking is validated in the garage below the building, which is a nice perk as anyone who heads to Bethesda knows the parking is always a huge pain. It would kill my zen,  let's be honest. For those of you who don't want to travel to Bethesda for a class, the good news is CorePower is opening a Georgetown location this spring!
Overall, I found the atmosphere to be very inviting, not at all intimidating for those like moi who aren't die-hard yoga people, the pricing to be really reasonable and the workout to be outstanding. I've tried several different teachers and obviously my heart belongs to Vanessa but each one has been friendly, helpful and excellent with the music.
So about that give-away……give yourself the gift of moi-time and enter to win the free month of unlimited yoga at CorePower Bethesda I am giving away to one lucky reader! Just head on over to the WM Facebook page, make sure you've "liked" my page, and comment under the post about this give-away. It's pretty simple and what a great gift to yourself! Maybe we could have some quality moi-time together at CorePower! I'll have one of the Wired Momma'ette's pick the lukcy winner's name next Wednesday January 9, so hurry up and enter. Believe me – this is a fabulous give-away!!
Namaste.
Disclosure: CorePower reached out to me and offered me some complimentary classes…but I was already a guest of Vanessa's, so I am passing this gift along to a reader. My opinions here are all my own.