Last night, me and three little girls headed down to the Verizon Center to enjoy the opening of Disney on Ice Treasure Trove. You can imagine the squealing and giggling in the back seat as we inched closer to the arena and the girls knew they were that much closer to their fav Disney characters.
Note – as I was navigating the pouring rain and traffic that comes with it, I suddenly had a flash back to my own childhood and my father driving four girls, and often their friends, around in our VW van, and now I know why he used to yell at us to just be quiet and stop screaming. #SorryDad #FullCircle
Before the show started, the girls were treated to the media opening night party, themed around the Mad Hatter and my youngest just about jumped out of her skin when these two love birds showed up: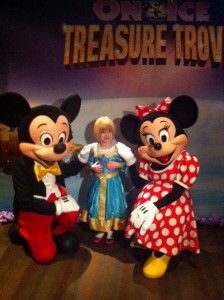 A big thank you to Feld Entertainment, who produces the Disney on Ice shows, for organizing such a fun and memorable opening night party!
Now onto the show. Honestly, the Disney on Ice at Verizon Center is always my favorite of the two Disney on Ice productions we get in town each year. They never miss a detail and the show varies greatly from year to year. I am pegging last night's as the night for animal lovers and amazing costumes. In almost every set, there was at least one remarkably cool, dramatic and creative animal that stole the segment. For example, get a load of this amazing croc from the Peter Pan set:
And how about this elephant from the Aladdin set:
Unfortunately I didn't capture really good decent pictures from the Lion King set but the animal costumes in the "Circle of Life" scene were etherial and elegant – much more creative than simply people wearing an animal costume.
Only the Grinch could possibly not love the "Under the Sea" song from The Little Mermaid and though I've seen it in almost every Disney on Ice production (because how can you resist it, frankly), last night's glowing neon fish costumes in contrast with the bright red Sebastian were outstanding.
So aside from the awesome animals, what else can you expect from the production? First – if you have a house that loves Disney but not necessarily the Princesses, then this is definitely the show for you. I was delighted to see other story lines from Disney featured more prominently;  Princesses don't even enter until near the end of the show.  After an opening act from The Incredibles, Alice in Wonderland takes the stage. The rabbit is one of my favorite fairy tale characters because, frankly, he most resembles moi. Together, we are ALWAYS LATE. He was, again, fretting about being late last night but it was the Queen of Hearts with her card soldiers that brought the "Wow" factor to this particular act. Each card was double-sided, including faces and their skates, with the red or black suit on the front or back of their skates, so it always looked like a card-soldier was skating towards you, even if he was actually skating backward. Super cool, people. Super cool.
Next onto the ice came the evil Captain Hook and his sidekick Mr. Smee.
#AmIAloneInWishingMyNameWasSmee?
The rousing rendition of the "Pirates Life for Me"they performed struck a chord with my group as it is a family theme song chez moi, and we all love Tinkerbelle, so we were delighted to see this act. The Lost Boys entertained with the fantastic "We're Following the Leader" song and the skunk Lost Boy took the lead as the family fav for us. Personally, I'd like to make an entrance sometime like Tinkerbelle, suspended in the air, flitting around sprinkling magic pixie dust. It seems fitting and appropriate.
One wonders, why hasn't this happened to me yet?
Intermission began 45 minutes after the show started and that's when all parents start bleeding cash, $12 for cotton candy (seriously, insane), $30 for a Disney princess doll, unless you can avoid the vendors completely by not even exiting at intermission, which frankly is my advice. Though cotton candy guy got me at a weak moment in our seats. The second act is quite honestly, jam-packed. It opens with our beloved Lion King, moves onto Snow White and so begins the princesses. Interestingly, each princess is given just a quick song instead of the more developed stories that came with Alice, Peter Pan and the Lion King. Snow White is given the most ice time and then Aladdin and Jasmine,  Ariel and Sebastian, Tangled and finally Tiana from Princess and the Frog. In total, the show is almost two hours long, including intermission time, so if you go to the 7:30pm show, it's around 9:30pm before you're out of there.
My crew was riveted the entire time, my four-year-old never once attempted to doze off or ask to leave – making this the first fully successful evening performance for our family. As with any Disney production, it is exceptionally well done, this one will appeal to boys and girls alike because it really is so Princess-light until the bitter end, which I was grateful for, honestly. There is more to life than Princesses, gals. On that note, be sure to "Like" the Wired Momma Facebook page to keep up with the occasional kid-outing review and other fun and exciting parenting commentary. Or really, just hilarious Some-ECards that I stumble upon.
Disney on Ice Treasure Trove will be performed at the Verizon Center through February 18 – an excellent long weekend activity – here's a breakdown of show times and how to purchase tickets:
Show Times:
Thursday, February 14th @ 10:30 a.m. and 7:30 p.m.
Friday, February 15th @ 7:30 p.m.
Saturday, February 16th @ 10:30 a.m. 2:30 p.m. and 6:30 p.m.
Sunday, February 17th @ 12:30 p.m. and 4:30 p.m.
Monday, February 18th @ 12:30 p.m.
Venue/Ticket Information:
Tickets are on-sale now and can be purchased at all Ticketmaster outlets via charge by phone at 1-800-745-3000; via www.ticketmaster.com <http://www.ticketmaster.com> ; and at the Verizon Center box office.
Verizon Center Ticket Prices: $80.00 (Front Row)/ $55.00 (VIP)/ $30.00 / $20.00
To discover more about Disney On Ice, go to www.disneyonice.com
Disclosure: Feld Entertainment gifted the tickets to me. My opinions here are all my own.