We are less than two months out from summer break – insane, right?  With that in mind, to help you get your creative juices flowing in how best to schedule some fun activities during the dog days of summer, today I bring you a guest post from Amy Suski, local blogger and co-founder of DCMetroMom. The thing is, Amy didn't just start a blog, she's gone on to do something many bloggers dream of: publish a book. Amy teamed up with her other DCMetroMom partner, Claudine, and the fabulous Micaela Williamson, formerly of SuperNOVA Mommy fame, to publish Kid Trips: Northern Virginia Edition. Their book came out earlier this spring and has received tremendous press attention and praise from local parents. And all for good reason. These women are the trifecta of DC-area based kid activity knowledge, not to mention business savvy, social media savvy entrepreneurs who are providing all of us an excellent resource to make our lives easier and more fun. I'm proud to turn the pages of WM over to them today, in Amy's voice, and introduce you to their book and what you might find in it. With that, I give you Amy:
———————————————————————————–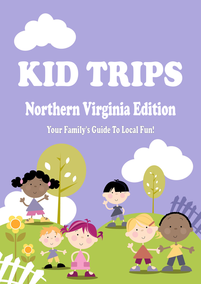 In my twenties, I lived and breathed city life in the District: working on K Street, shopping boutiques, going to the theatre, strolling the art galleries, biking along the Potomac, and dining at trendy restaurants every chance I got.  But while I was busy streaming into the city for work and play, NoVA was sneaking up on me as a happening place to be.
Over the last decade, Northern Virginia has really come into its own and can boast much more than proximity to D.C.  While preserving its historic old towns, gardens, and parklands, Northern Virginia has forged ahead to create its own identity as a terrific family destination all its own with super-fun seasonal events (Spring Egg Hunts, Summer County Fairs, Fall Pumpkin Patches, Winter Festivals), family-friendly performance venues, nature centers, oodles of indoor play-spaces, innovative playgrounds, art studios, interactive museums, farms, and so much more.
With so many new things happening in NoVA I wished for a guide to steer my family on its travels.  Although there were a lot of big name family travel guides for D.C., I couldn't find a comparable book dedicated to NoVA.  So, after years of living in and exploring the area, I teamed up with Claudine Kurp (co-founder of DCMetroMom.com) and Micaela Williamson, a.k.a., Super NoVA Mommy, to create a guide especially for families living in or visiting NoVA.   Between the three of us we've pretty much dragged, chased, and strolled all seven of our kids across the entire area.  As local bloggers we've also had unique opportunities to visit and review many terrific activities and performance venues so we feel like we have an insider's track on helping families find the best that NoVA has to offer.
There are so many reasons to explore NoVA and we hope our new book will help guide families along the way.  Just a few of my personal favorites featured in the book:
+ Carousel and playground at Clemyjontri Park in McLean
+ Tot-rock concerts at Jammin Java in Vienna
+ Children's Theatre-in-the-Woods at Wolf Trap Performing Arts Center in Vienna
+ Museum, farm, and gardens at the Mount Vernon Estate
+ Artist studios at Old Town Alexandria's Torpedo Factor Art Center
+ Art programs for Children at the Greater Reston Arts Center
+ Children's garden at Green Spring Gardens in Alexandria
+ Farm fun at Frying Pan Farm Park and Loudoun Heritage Farm Museum
+ Sprayground parks in Arlington
+ Miniature Train at Burke Lake Park
+ Leesburg Animal Park
+ Marine Corps Museum in Quantico
+ Hiking at Great Falls
+ Super Science Saturdays at Udvar-Hazy Air & Space Museum in Chantilly
+ National Battlefield Park and Historic Train Depot in Manassas
For hundreds more local attractions, "Top Picks," "Insider Tips," seasonal events, and parenting resources get your copy of Kid Trips: Northern Virginia Edition through Amazon or as an ebook on Kindle, Nook or Smashwords (coming to iBooks soon).  To sign-up for monthly newsletters, updates, and blogs visit www.gotrips.com.
About the author:  Amy Suski and her husband are parents to two sons, a daughter, and a rambunctious boxer dog.  Before motherhood Amy worked in Washington, D.C. as an attorney and is now writing, editing, and volunteering.  She is co-founder of DCMetroMom.com and co-author of Kid Trips: Northern Virginia Edition.
————————————————-
Thank you so much Amy for contributing today! I hope everyone will consider supporting these local moms, their book can be purchased for $8.99 on Amazon and it's well worth it to give yourself a whole host of ideas for lazy summer days! You can also find these lovely ladies on Facebook.
As always, I hope you'll "Like" the Wired Momma Facebook page and if you'd like to contribute a guest post, please email me at wiredmomma@me.com.