Last week, a friend came over and while talking about the horse birthday cake she was making for her daughter's party, these words fell from her lips "Fuck You Pinterest."
And it was like the skies parted, the angels sang and the world shone bright. We both bust out laughing and obviously it had to be a blog topic. Surely there are others who share this same sentiment. If that is the case, today's post is for you. When I posted a tease of this blog topic on the Wired Momma FB Page, I received a pretty enthusiastic response and some readers shared sites like "Pinterest Fail" and this hilarious Buzzfeed article on picture fails from Pinterest. Both are definitely worth your time. I probably re-read the Buzzfeed one about 4 times yesterday just to keep laughing.
Today, I bring to you my top FU pinterest awards from the following categories: home organization, home decor projects, toy organization, closet organization and what else, kid birthday cakes. If you have other topics and photo nominees, do send them in (email them to wiredmomma@me.com), this should really be a rolling awards series. We all need a good laugh. Not to mention a reminder that we aren't alone.
For the category of Home Organization, I bring you this book shelf fail: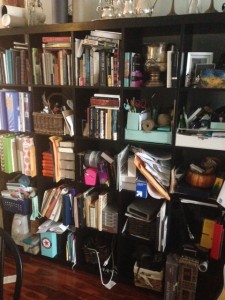 For the category of Home Decor Projects – ask yourself – animal slaughter or spray paint attack?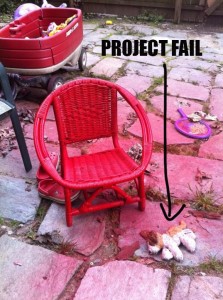 For the category of Toy Organization, just fail and also – just REAL: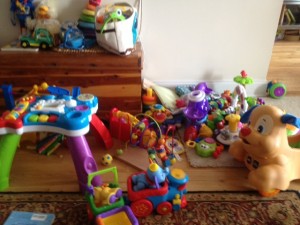 For the category of closet organization, this is my sister's – did she even try to begin with is really the question?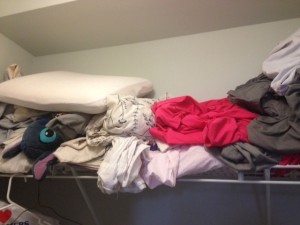 Because the category of closet or cabinet organization requires more than one image because there are so many types, I offer you this from my office, I can't even blame my kids for it even though their crap has taken over: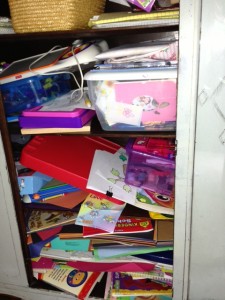 And finally, the annual rite of kids birthday cakes –  how about this work of art – my Hello Kitty cake that I made last November: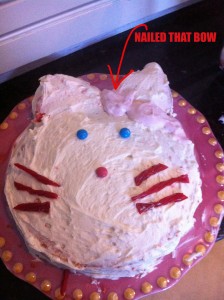 And finally, my sister's son just turned one yesterday. She was actually inspired by a Pinterest polka dot cake, so she went for it:

F U Pinterest.
For the most fun you ever did have, hit "Like" on the WM Facebook page – and send me your images!