I measure my phase in parenthood by the ages of my kids in the summer. I learned this the hard way that first summer I was home full-time with two kids. Does the phrase "rude awakening" come to mind? They were 7 months and 3.5 years old.
It was hard. It was really hard. I later likened my children to a lion tamer and Godzilla. Since that post, I quite enjoy seeing how many people search the term "Lion Tamer" and land on my blog, only to be disappointed that I have no experience in actually taming lions.
Unless you would consider a three-year old a lion.
In which case, get my whip and top hat out – I am a verified expert.
Now that mine are 4.5 and 7.5, I am approaching this summer with a new lease on life. I no longer feel like I am trapped behind the looking-glass, gazing at the parents who can actually sit by the pool and relax a bit; staring longingly at the parents who have the nerve to bring a book or magazine to the beach. We have arrived. I am not naive enough to think we fully over the liberation threshold. No No.  We are knocking gently at the door, arriving ever so timidly, eagerly awaiting to see that summer can be relaxing, lazy and slow….sometimes…briefly…on some days. All the while, worried that some set back will put us back to the days of the lion tamer and godzilla.
The thing is, I really do expect that this summer, I can actually catch  a minute by the pool and enjoy the wide open freedom that comes with no nap schedules. Therefore, I am actually building a summer bucket list.  I will continue to maintain the work that actually pays me but that said, topping off my bucket list is to spend less time worrying about my blog, writing on the blog and generally keeping it up.
I am on summer break from Wired Momma.
I trust it means you won't leave me. I trust it means you will come back in the fall and of course, I"ll still post over the summer, but sporadically. I can't fully let go, naturally, so keep up with the fun on the Wired Momma Facebook page.
With that, here's a peek at what I plan to do this summer – in no particular order – and the beauty of my bucket list is I don't have these things carefully planned out and written on the calendar, the calendar is being kept open, so we can decide somewhat whimsically when we'll head out on an adventure:
Wolf Trap – both regular Wolf Trap for the evening shows under the stars – and the Children's Theatre-in-the-Woods. We lived in this area briefly when I was a kid and I have really fond memories of the Children's Theatre. I want to be sure my kids do too. I also love sitting out on the lawn on a hot summer night, enjoying a picnic and the sounds of live music.
Speaking of live music, during the month of June, Brookside Gardens has free outdoor concerts on Tuesday nights. It can be tricky to get there after work but it's always fun and relaxing and the kids love searching for turtles and fish in the pond.
But wait, there's more on the outdoor entertainment front. Strathmore Backyard Theater has an ongoing outdoor entertainment series for kids that I haven't yet been too – look for me there this summer.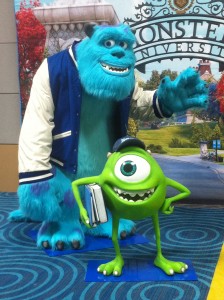 On rainy days, maybe some bowling or roller skating? We're also really looking forward to "Monsters University" opening later this month and the Despicable Me Sequel! Spoiler Alert – my dad took advantage of the chance to get a sneak preview of "Monster's University" while we were in Disney for the Disney Social Media Moms conference and all he can say is he loved it.
My husband wants to hit every water park he can find. He also wants to hit Cunningham State Falls park. It's absurd that we've never been.
I want to go on more dates this summer. One of my fav summer dates was the year we did the sunset kayaking and then ended up at Founding Farmers for dinner. Time to repeat that one or find another one that's equally as fun and unique to summer time.
You better believe I will be hitting the "Bathtub Pirates" puppet show at The Puppet Co., "Cat in the Hat" which opens in two weeks at Adventure Theatre and the upcoming "Peter Pan and Wendy" at Imagination Stage. These could be rainy or sunny day activities, especially with the carousel and park at Glen Echo and all the fun lunch spots in downtown Bethesda.
Beyond taking the girls to see a Nationals game, I think it's time we hit a game at the Bowie Baysox, every year I regret not getting there because I hear the whole experience is really kid friendly and cheap.
The National Zoo is always on our bucket list – year round – but we especially love the new America Trail and all the seals swimming around. Frankly between the
indoor and outdoor exhibits and the super fun new carousel, the zoo is a great hit rain or shine – so long as you go early in the summer time.
Given our proximity to the water and the youngest WM'ette's love for all things pirates, hopefully we'll hit up the Pirate cruise in Annapolis, Baltimore or the new one that just launched in Georgetown.  Here's my review of the Annapolis experience if you haven't yet been.
For a weekend day trip idea, I recently learned of the boat cruises from Annapolis to St. Michaels. We once had a weekend get-away without children to St. Michaels and it was lovely but that was almost seven years ago and we haven't been since. Based on the reviews, it sounds like the kids would love the cruise from Annapolis to St. Michaels. Or better yet, maybe I need to ditch the kids and husband and instead hit the yoga cruise out of Annapolis with the ladies. Thoughts??
Finally, in the summer time, I always resolve to read more – it's more of a resolution than I make in January. Right now, based on some great recommendations, I've got "Room"    downloaded as well as "The Interestings" — which my friend is predicting will be the breakout summer hit of 2013 much like "Gone Girl" was last summer.  I just finished reading "The Kingmaker's Daughter" and basically couldn't put it down.
Doesn't this seem like a robust summer bucket list?  What did I forget? Add it here or on the WM Facebook page.
Happy summer everyone….I hope you find yours relaxing, lazy and spontaneous.